by emma —
last modified

06/06/2016 12:28 PM
DJ Derek ales support young music makers at Trinity
by emma —
last modified

06/06/2016 12:28 PM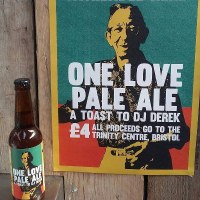 Sales of One Love Pale Ale and Derek Ale will support Trinity charity, as DJ Derek's legacy
Sales of two ales - One Love Pale Ale and Derek Ale - both launched in the memory of the renowned DJ, will help to support Trinity's work with young people, helping them re-engage with learning through making music.
Sweet Memory Sounds
This support is part of the wider work of Sweet Memory Sounds - set up by Derek's family and friends to keep Derek's musical legacy going. The group are donating funds raised to Trinity to help with young people get into music, who commented; "we feel this is perfect and what Derek would of wanted."
One Love Pale Ale
Festival organisers of Positive Vibration: Festival of Reggae - taking place in Liverpool this weekend, 10 and 11 June - have collaborated with Black Lodge Brewery, to commemorate Derek and the wonderful life he led.
'One Love Pale Ale' will be sold throughout the festival, with proceeds donated to the Trinity Community Arts - a charity running the Trinity Centre, Lawrence Hill - in support of our youth music programme.
The family-friendly reggae festival will feature Mad Professor, Trojan Soundsystem, Don Letts, DJ Vadim and much more.
'Derek' Wetherspoons Ale
In honour of the late Bristol legend DJ Derek, Wetherspoons have also released a Bristol-brewed ale called 'Derek', with 5p for each pint sold being donated to the Trinity charity.
Wetherspoons was Derek's favourite pub chain and he was also known for enjoying dark ales. So GWB Brewery have paid tribute to the local DJ by releasing an ale to celebrate his life.
Derek ale was released in April this year, to coincide with the date of Derek's public funeral - and pays honour to his lifelong ambition of visiting every Wetherspoons in the country.
DJ Derek loved playing in Wetherspoons pubs up and down the country, including the Commercial Rooms in Bristol, where the idea to launch a tribute ale in his memory first came about.
The ale has been going very well and can be found in may Bristol pubs. GWB Brewery have decided to produce the ale in 500ml bottles which will hopefully be available at the beginning of July 2016.
Read more about how Sweet Memory Sounds are supporting Trinity here.
Please support Trinity through purchasing these ales and please drink responsibly.