by emma —
last modified

19/02/2018 04:57 PM
The Ithaca Axis
by emma —
last modified

19/02/2018 04:57 PM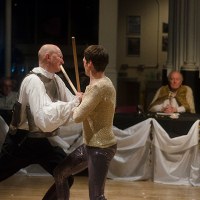 The Ithaca Axis 2013 was a modern reinvention of the myth The Odyssey
The Ithaca Axis, 2013
"I

t pulls you in, and claws away at your very core. When the show is over, there is a terrible feeling of loss." - Thou ART
Scripted by Edson Burton
Directed by Nick Young
Production by Kate Hartoch and Netty Miles
Additional material devised by the company
Core cast: Glyn Dilley, Heidi Dorschler, Carlotta Cutrupi, Dominic Wolf, Paul Beech

Braving the wrath of the Gods, Odysseus has returned to the ancient kingdom of Ithaca - now modern day Bristol - to reclaim his seat of power within the Poseidon Foundation. But is he still welcome?  An incredible journey taking place through several, secret locations across Bristol. Part theatre, part adventure, The Ithaca Axis is a modern reinvention of the myth The Odyssey.

Performed over two weeks in April/May 2013, The Ithaca Axis was a fully interactive immersive show that used the city of Bristol as the set. A modern retelling of Homer's epic poem The Odyssey it tells the story of Odysseus' return to Ithaca, expecting to be welcomed as a hero, only to find that all is not how he left it.
A distant wife, a playboy son and a revolutionary daughter all have their own reasons for not wanting him back as he struggles with his own demons from his travels. Utilising ten locations, including Redcliffe Caves, Broadquay Fountains and St Stephen's Church, the show took four seperate audiences on a simultaneous journey that told one story from each of the main characters' perspectives before all coming together for the finale at the Trinity Centre. Power, family, loss and the traumas of going away to war are all themes that play out in The Ithaca Axis.