by emma —
last modified

19/02/2018 04:41 PM
At Tether's End
by emma —
last modified

19/02/2018 04:41 PM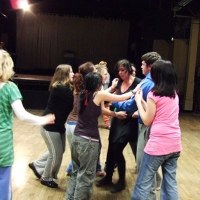 Rehearsals for Trinity's first site- specific performance
In December 2008 Trinity collaborated with The Wonder Club to produce a spectacular site specific promenade theatre performance
At Tether's End.
The show was inspired by the true story of a local young man William Pullin who tragically stabbed a police man, PC Richard Hill, to death. The show was part of the Bristol Sound Project and featured artwork, set and performances from a large number of young people working alongside professional artists from Bristol.
The show was a resounding success with tickets sold out every one of the six nights the show ran for. It also received a 4/5 star review from Steve Wright in Venue magazine as well as an excellent write up in The British Theatre Guide. Read the reviews here.
After a brief break Trinity are pleased to offer a new theatre training course run by the director of At Tether's End. For more information please visit our home page.