by sarahb —
last modified

13/06/2018 01:09 PM
Trinity says goodbye to Arts West Side
by sarahb —
last modified

13/06/2018 01:09 PM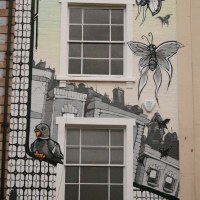 Silent Hobo painted the facade of West Street back in 2011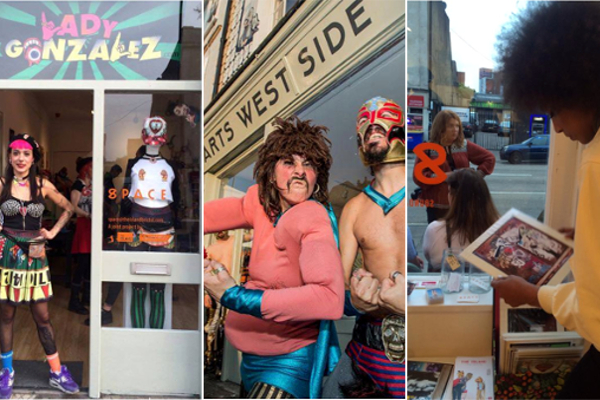 Arts West Side & SPACE joined forces from Apr 2016 to March 2018
"We are very proud of what we've achieved with Arts West Side and are sorry that we aren't able to continue this good work but are glad to see it will continue to be used as an arts space for the next couple of years. Thank you to everyone who has supported us since we took it on it 2011." Karina Castro, Project Manager.
Last week, we all said a goodbye to a familiar landmark in Old Market, as the friendly pigeons on the façade of Arts West Side – painted by renowned Bristol street artist Silent Hobo – were painted over, marking the end of an era for one of the area's only dedicated community arts spaces.
Owned by Bristol City Council, 6 West Street was handed over to Trinity Community Arts, via the city's Community Asset Transfer (CAT) process on a 'peppercorn' leasehold. We have been looking after the building since 2011, in order to increase arts provision in Old Market, at a time when the area was struggling with boarded up and vacant premises.
Since then, 'Arts West Side' has provided artists and communities with an affordable, central resource used and visited by over 2,000 people each year, helping to encourage other businesses and social enterprises to take up residency in the area. As part of the Council's bid to plug a £102m deficit, they are now seeking a commercial rent from the building.
The space will continue to be used as a meanwhile creative hub at a reduced rent by Arts West Side partners for the last 18 months, Artspace Lifespace (ASLS), who will continue their SPACE project until 2020.
We will now focus our efforts on the Trinity Centre building, which is also owned by Bristol City Council. We are currently fundraising to carry out conservation work to the much-loved community asset, having already invested over £1.5 million in protecting the Grade II* listed building.