by sarah —
last modified

19/02/2021 07:50 AM
In focus: Deborah Baddoo MBE
by sarah —
last modified

19/02/2021 07:50 AM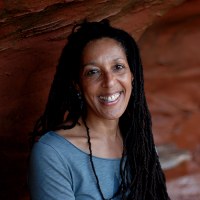 Deborah Badoo, Producer for Bristol Dance Futures, 2019-21
Find out more about Moving Bristol's Producer Deborah.
Deborah Baddoo MBE is the Producer for Bristol Dance Future's Moving Bristol project. The project focuses on developing dance practice for new and existing audiences and developing an ecology of dance across Bristol.
Drawn to the opportunity by a desire to galvanise action and create a legacy for Dance in the city, Deborah brings her extensive experience in the dance sector to the role.
Passionate about her long-term vision to raise the profile and support the development of Black choreographers nationally and internationally,she was awarded an MBE for service to dance in 2010. In 1986 in partnership with musician Steve Marshall, she set up arts production company State of Emergency. The company produces shows, projects and events and works with world-class artists and creates opportunities for emerging artists. The charitable arm, State of Trust works to use the arts to promote social cohesion.
Deborah has also worked as an Arts Council Agent for Change with Bristol Old Vic and Sailsbury Playhouse, was Diversity Consultant for Bristol Museums and has worked with many renowned dance and arts organisations across the UK including Rich Mix, DanceXchange, Stratford Circus, Swindon Dance and East London Dance.
As well as a planned programme of industry events - such as the upcoming Dance and Health Conference 2021 - Deborah has collaborated with the Dance Futures Steering Group, independent artists and organisations to select the Dance Connect residencies. The residencies are an opportunity for practitioners, organisations and communities to collaboratively develop a programme of dance activity. Artists will explore and develop ways that dance can be enjoyed and experienced by new and existing audiences and participants across the city.
Deborah has also supported the creation of three Dance Hubs across the city to focus on the development of Dance for Health, Young People and Audiences. Organisations on board are Arnolfini, Creative Youth Network and Trinity. Trinity will be working with dance practitioners Lerato Dunn and Rachel James to programme activity in our role as the Arts & Health Dance Hub for the project.
Find out more about Moving Bristol here.
About Bristol Dance Futures
Bristol Dance Futures, is a consortium of Bristol organisations and independent artists, that nurtures talents and provides professional development opportunities for dancers, with an aim to create a vibrant dance ecology, so people of all ages can engage with high-quality dance.
Dance Connect is supported by funding from Arts Council England