by rhiannon —
last modified

14/04/2016 07:39 PM
Wild Card Award Open Call for Artist Commission
by rhiannon —
last modified

14/04/2016 07:39 PM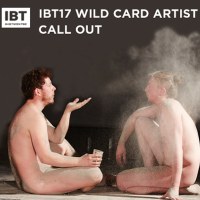 IBT15 Wild Card Peter McMaster: 27
Wild Card Award Open Call for Artist Commission
In Between Time in partnership with Attenborough Centre for the Creative Arts (ACCA), Fierce Festival, Trinity Centre supported by Arnolfini, seek to commission an artist to make new work to premiere at IBT17 and tour throughout 2017.
Wild Card Award is committed to supporting and developing artists who engage with live practice and employ an experimental approach to process, form and audience.
Wild Card Award is part of IBT's wider commitment to supporting artist development and sits alongside the New Bloods platform – an open-call for six emerging UK artists, and The Student Awards, a new prize given to 3 promising UK art students from Leeds Beckett University, University of Chichester and the University of the West of England.
The Wild Card Award 2015 commissioned Peter McMaster to create 27, which was performed in Fyfe Hall here at the Trinity Centre and is currently on tour with IBT.
Deadline Sunday 17th April - more info here