by rhiannon —
last modified

02/08/2016 08:58 AM
Arts Council support for Trinity
by rhiannon —
last modified

02/08/2016 08:58 AM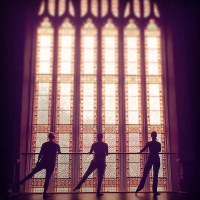 Light Steps rehearsals June 2016
£131k has been granted through the Catalyst: Evolve Fund, to help Trinity become more a more sustainable and resilient community arts and cultural organisation over the next three years. Funding will be used for capacity building and match funding for equipment and project activities.

£45k has been awarded from Grants for the Arts to launch our Ignite Programme; enabling us to develop and deliver a 12 month programme.

The aim of the Ignite Programme is to affect real and lasting change in diversification of arts in Bristol. We will provide:
- an affordable in-house programme of theatre, dance and music, that represents and engages diverse communities and user groups
- a targeted artist residency programme, supporting artists based within the Centre to develop new work
workshops, talks and social events, and activities, that help to build links between resident artists and other and community centre users.

We will be offering commissioning opportunities for local artists to enhance our existing programme as well as providing improved technical capabilities for community arts delivery, thanks to £15K already secured from the Garfield Weston Weston Foundation.

There will be a number of new part-time posts and contract opportunities created to help us deliver these exciting new projects. Please keep an eye on the Recruitment area of our website for more information.

Emma Harvey, Centre Manager said; "This is a fantastic opportunity for Trinity to realise some of our ambitions to become a more sustainable organisation and help support the development and delivery of arts at a grassroots level"
To register your interest in the Ignite Programme, contact rhiannon@3ca.org.uk to sign up to our mailing list.