by sarah —
last modified

10/03/2022 03:57 PM
Connecting the dots
by sarah —
last modified

10/03/2022 03:57 PM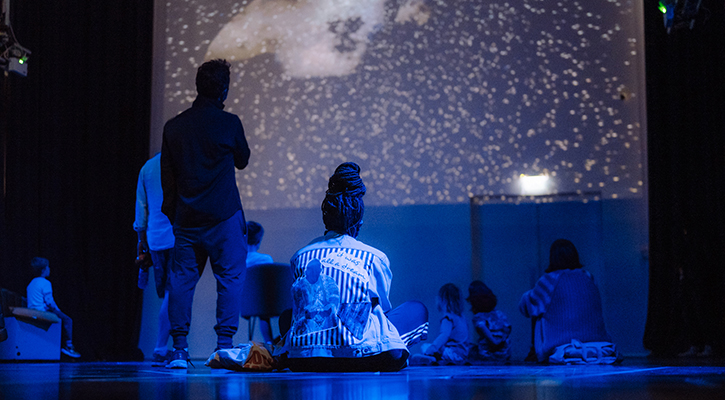 Roxana Vilk's Lullabies Celebration Day. Photo credit Khali Ackford
The past few years have been a testing time for our industry. Looking to the future, we want to change how we work together in Bristol and the South West — as a small group of venues, we have started thinking about how as a collective we might find moments in the year to link our pathways and programmes for artists, celebrating and sustaining them alongside platforming their work in the places they call home.
Throughout March, join us in exploring what a connected city offer for theatre-makers might look like. Co-delivered by Trinity, Bristol Old Vic, Tobacco Factory Theatres and The Wardrobe Theatre and with input from many others, Connecting the Dots is a joined-up initiative piloting how we can work together to present and cross-promote shows, free workshops, meetups, residencies and open forums for artists and audiences here in the South West.
This is a pilot – a work-in-progress, even. It's the beginning of an idea pulled together at pace with a want from all of us to build for the future. The initiative will have events that take place in-person and a small digital programme. We want to know what you think of it and to hear your feedback and your ideas for what this could become.
With love, Trinity, Bristol Old Vic, The Wardrobe Theatre & Tobacco Factory Theatres.
Important information
We will gladly book interpreters and/or captioning for any events as needed. If you have booked for an event and require interpretation, captioning, or another access adjustment, please email and we will book it.If possible, please give us at least 5 day's notice so we can ensure captioners/interpreters are available.
All rooms are wheelchair accessible via lift and have access to accessible and gender neutral toilets.
These workshops are offered for free but if there we have a limited number of stipends available for those that might experience financial barriers to attendance. This could go towards travel, your time, etc. To request one, drop us an - stipends will be offered on a first-come, first-served basis.
Find out more
Head to Bristol Old Vic's website to find out more about the programme of activity by following this link.