by sarahb —
last modified

29/10/2020 12:12 PM
Ania Varez
by sarahb —
last modified

29/10/2020 12:12 PM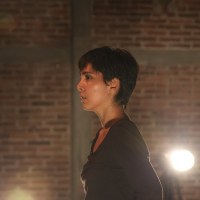 IGNiTE resident Ania Varez
IGNiTE resident Ania Varez describes her practice as 'community-engaging'
"I want to give people in England a point of contact with a crisis that is largely undocumented in the UK".
Ania is a Venezuelan artist who trained in classical dance and moved to Bristol in 2015 having graduated from the London Contemporary Dance School. Recently Ania has moved away from performing dance towards more participatory projects that explore issues of migration and loss.

Her project 'Guayabo' (Venezuelan slang for "heartbreak"), is a participatory work that invites people to gather around their pain and the pain of others, challenging our ways of acting and caring for one another through geographical distance or cultural differences, as a medium of survival, transformation and belonging.

We really liked her reasons for applying for an IGNiTE residency:
"The experience of leaving my home in the midst of a severe humanitarian crisis and facing the challenges of being an immigrant in the UK, as well as witnessing the current migration crisis worldwide, has strengthened my urgency to develop a practice for these issues to be addressed collectively and creatively, here in England."