Update from the #Resist Team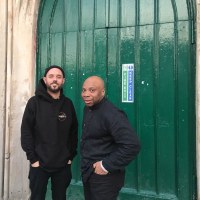 Venue Manager Jamell and Curator Edson pictured 2019 l © 365Bristol
With the latest 'Meet the Researchers' event coming up next week, we touch base with the Curator Edson Burton who heads up the #Resist Team to find out what's been going on behind the scenes with Trinity's latest heritage project.
Tell us about Art of Resistance
The Art of Resistance is a two-year programme of research, activities and events charting looking at creative responses to resistance movements in Bristol. We will focus on five key movements over the last 100 years:
Women's Equality Suffragette to the #MeToo Movement
Anti-Racism/Anti-Fascism – Black Shirts to Black Lives Matters
Workers' Rights - Hunger Marches to unionising the gig economy
Counter Culture – Rastafari, Squatters, Travellers & the free party scene
Reclaiming the Environment – CND, Extinction Rebellion, graffiti to street art
Each strand will be explored through research and activities including talks, workshops and reminiscence sessions.
Tells us a little about what's been going on with the project?
As with many across the cultural and heritage sectors, we've had to navigate the impact of COVID-19. Online platforms have become our best friend; we've hosted two project 'Intro' sessions, giving members of the public a chance to find out more and how they can contribute either by sharing their 'resistance art', or by volunteering with one of our research teams to help uncover Bristol's stories of resistance and that art that helped drive forward some of the City's key movements over the last few decades.
What have you uncovered so far?

We've started off by talking to and interviewing some of the leading lights in active Bristol movements and are looking forward to sharing over the coming weeks interviews including activist & Councillor Cleo Lake, photographer & Black Lives Matter activist Khali Ackford, the inimitable wordsmith/producer Rider Shafique, the legendary Rita Lynch and the force behind the internationally loved Watershed cinema, curator Mark Cosgrove.

We've also been sent some truly impactful images of protests by locally based photographers Tara Klein, Colin Moody, Daniel Durrans - plus Bristol stalwart Eugene Byrne has given us use of their archival pictures. We'll be bringing you these'snapshots of resistance' across upcoming online and physical exhibitions.
What are you looking forward to?
In readiness for our next stage of research, we've been setting up the delivery team to all the help run the project and are happy to welcome new project assistant Esther to the team. So, we're really looking forward to a return to our first installment of socially-distanced events and activities.
How do people get involved?
If you're interested in getting involved or would like to know more, come along to our next online event: Meet the Researchers, Monday 22 Feb 2021. Each researcher will share their interests and experiences giving you the chance to decide which strand you wish to follow.

We'll be bringing you more activities and events over the coming months so keep an eye on our website and social media channels or sign up to our e-newsletter.

If you've got a story or artwork you'd like to share as part of the project, please get in touch or upload content using our Art Of Resistance Submission form.
Keep up-to-date with the project, including how you can take part, by signing up to our mailing list here.