by sarah —
last modified

10/10/2023 11:43 AM
Well-being Events
by sarah —
last modified

10/10/2023 11:43 AM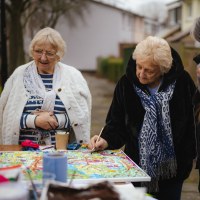 Street painting in Newtown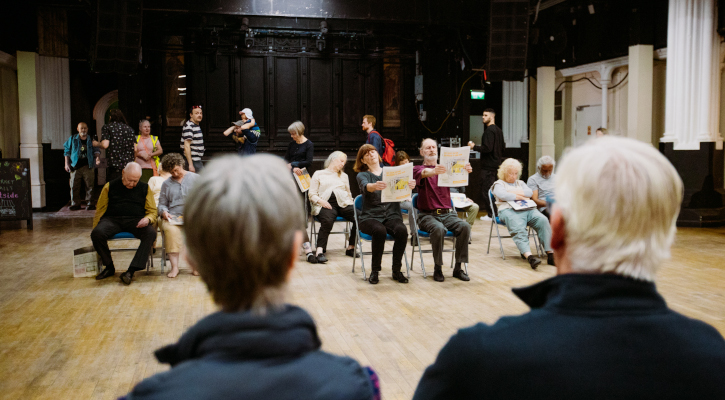 Gerry's Attic - Image Credit: Alastair Brookes
This World Mental Health Day, we are shining a light on some of the activities at Trinity that are specifically programmed to offer support and help improve mental wellbeing.
Our weekly, drop-in music sessions for young people, Next-Gen Sounds, serves as both a place for young people to collaborate on their musical projects in Trinity's music studio, but also acts as a safe space for young people to seek support and engage with musicians as a way of improving mental wellbeing. Supported by Bristol-based Mental Health charity 'Off The Record', Next-Gen Sounds has played a vital role in supporting young musicians – many of whom are from challenging circumstances – by harnessing the transformative potential of creativity to enhance their mental and emotional resilience.
Trinity's fortnightly Community Volunteer Gardening sessions are relaxed, informal, practical gardening sessions to support the Trinity Community Garden's maintenance and upkeep. Gardening is known to have a profoundly positive impact on mental health and wellbeing. The act of nurturing plants and witnessing their growth fosters a sense of purpose and accomplishment. Gardening encourages mindfulness, reducing stress and anxiety while promoting relaxation. Trinity's Community Volunteer Gardening sessions are very important to people living in the local area, many of whom live in high-rise flats and therefore may not have access to green space of their own, and without Trinity's Community Garden may not gain the positive effects that gardening has on improving mental health and wellbeing.
FAB Disco is a disco for anyone over the age of 50, delivered in partnership Friends Ageing Better (FAB) and Eastside Community Trust. Isolation and loneliness are all too common among older people, and FAB Disco offers a space for people to socialise, listen to music, and dance together, all of which are proven to have a positive impact on mental health. Music can significantly enhance the mental health of older people by offering emotional support, triggering positive memories, and promoting relaxation. It fosters social connections, reduces stress, and provides an avenue for self-expression, contributing to improved emotional well-being, cognitive function, and overall quality of life.
At Trinity, we run Creative Wellbeing Workshops in collaboration with Age UK and Alive Activities. These workshops are a safe and welcoming space for people to take part in arts and crafts activities and to learn more about ways to look after themselves and relax. The sessions are aimed at bringing together individuals from different cultures within the community to explore and share their emotions in a creative and fun way. Using different art materials to express emotion acts as a valuable means of expressing and connecting with emotions, and engaging in this process in the company of other people from the local community can provide the opportunity to increase our understanding of and empathy for each other