by sarah —
last modified

28/09/2023 10:57 AM
Help restore Jacobs Wells Baths
by sarah —
last modified

28/09/2023 10:57 AM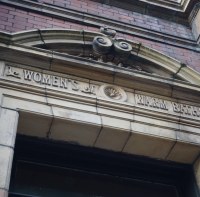 Jacobs Wells Baths
Join our mission to restore Jacobs Wells Baths and transform it into a dynamic space for youth, arts, community, and learning.
Together with the community, we've developed a plan to repair, renovate and revive this amazing building. We're now working to raise £4m to deliver a phased programme of works and we're asking the people of Bristol to give what they can to support this exciting and ambitious project.
"This is building is special for me. Here I learned how to stand up straight, and I learned where my feet were. Or rather, I learned how to learn those physical things, or I learned that they could be learned. My teacher was a dancer, Helen Roberts." Jane Nortcote
With the condition of the building rapidly declining, we're on a race against time to stop the clock on any further damage. Working with a team of specialists led by Greenwood Projects, we're carrying out detailed surveys to assess the building's condition and delivering a programme of emergency works to give us time needed to raise funds for the full repairs programme.
So far we've concentrated efforts on the North wing, which has suffered from serious damage due to heavy rain and lack of maintenance over decades. We're clearing blocked gutters and fixing slumped sections to ensure proper drainage and prevent further leaks. We're clearing, repairing and sealing valley gutters and downpipes. To protect what remains of the roof, we're adding a durable membrane to improve waterproofing and prevent any further damage to the fabric and interior space.
We're actively applying for grant schemes, including the Community Ownership Fund, to deliver a phased repair and renovation scheme and reopen Jacobs Wells Baths as a hub for community, arts, and youth provision by March 2025.
Now, we need your help to bring back Jacobs Wells Baths - together, we can make the magic happen!
Share your story e.g. images / memories of space #savejwb or to info@trinitybristol.org.uk
Write a letter of support
Join us on one of our pop up events to find out more about our plans
Comment and vote on our Pol.is