by sarah —
last modified

15/11/2023 04:26 PM
Exploring cultural confidence and its impact
by sarah —
last modified

15/11/2023 04:26 PM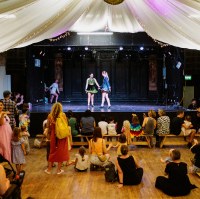 Trinity Garden Party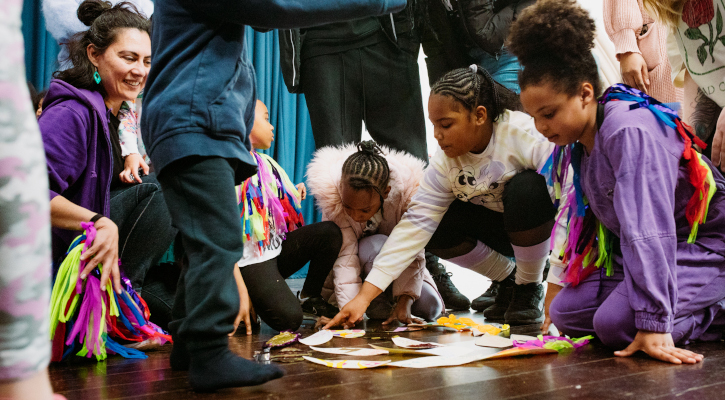 Dance workshop for primary aged children at Trinity. Photo credit: KoLAB Studios
Earlier this year Trinity was awarded a Tech Makers and Maintainers grant from Power to Change, which enabled us to look at ways in which we could utilise our Customer/Constituency Relationship Manager (CRM) to better collect and report upon data. The grant allowed us to take the time to think about how this work connects with our wider commitment to understanding people's cultural journeys.
Following the publication of our own 'Cultural Confidence Scale', we have connected with two universities to test this scale and to create the technology to collect and process the data we need to demonstrate the impact of Trinity's work.
We caught up with Dr Astrid Breel of Bath Spa University; Professor Iain Gilchrist of Bristol University, and member of the MyWorld project team; Trinity's Emma Harvey and Sarah Bentley to find out more about our Cultural Confidence scale and how community tech will be helping us to 'Tell Our Story'.
Unpacking Cultural Confidence – Emma Harvey, CEO Trinity Community Arts
"Trinity's Cultural Confidence Scale is a theory of change that has been developed in response to our desire to understand how we can better tell the story of an individual's journey in engaging with culture and creativity at Trinity. It is the idea that we (as consumers of culture) start our journey in an unfamiliar place to gradually building confidence through increased experiences, within familiar settings, and then move into unfamiliar settings, to then get to what I would say is the kind of peak of our Cultural Confidence Scale, which is what we hope to be - autonomous free cultural consumer. To go where we choose, consume what we want to choose, and that we are sufficiently aware and conscious enough and confident enough to be able to do those things.
A lot of our work, particularly around some of our children and young people's programmes or our targeted community work, is grant-funded. We are then having to measure against a separate set of outcomes or outputs, so that you can attribute some of those outcomes, for example Health, to coming and taking part in the arts. These to us are secondary measures to the actual primary measure of people coming and just having a rich, exciting cultural experience together. What value does that in and of itself have that's intrinsic, that we accept that arts and culture is good for us? There's a lot of academic reports to that degree. But for us, the question is how can we then understand that cultural journey a little bit more clearly, that may also include health and wellbeing outcomes and learning outcomes and various other outcomes."
Testing the Cultural Confidence Scale - Dr Astrid Breel, Bath Spa University
"I am the Impact Research Fellow at Bath Spa University, and I am interested in understanding how people make meaning out of their experiences and find value in things like cultural or arts experiences.
I work in a community-led way that is in equal partnership with stakeholders and will start by thinking through together what are the different kinds of impacts and values that Trinity's work has? What does it mean to people? What did they get out of it? And how can we talk about that kind of stuff better, and to do this in a way that is not reductive - as it can be if we used metrics and value systems that already exist.
Within Trinity's Cultural Confidence Scale we will be thinking with the community to see how they see themselves within the Scale. We will be exploring ways in which we can ask people good questions, in order for them to be able to share part of their reflection on their experiences with us so that we can better understand their journeys and how they find value in their journeys at Trinity.
The other element of that is thinking through the kind of more practical impact and evaluation strategies that exist at Trinity so that we can basically tell better stories in a way that is both rigorous because it's based on people's experiences, but more complex and nuanced than potentially some of the existing evaluation methods that currently exist and that are off the shelf"
Neuropsychology: How culture impacts our mental lives – Professor Iain Gilchrist, Bristol University
"I'm Professor of Neuropsychology at the University of Bristol. Neuropsychology is the a scientific endeavour to understand our mental lives. Understanding our mental lives is embedded in the actual function of the brain. We want to understand how your brain leads you to have the experiences you have - and that includes really complex experiences like cultural experiences, like going to an event at Trinity or being engaged in Trinity in some way or other, to understand what that does to our mental lives and also indirectly what that does to our minds and brains.
What is interesting about this project is that Trinity itself has the Cultural Confidence Scale – a well-worked out and quite sophisticated framework for understanding people's cultural journeys. Trinity also has this amazing data that you collect anyway, and an opportunity and an openness to collecting more data in a richer way in a more interconnected way. I'm really interested in being part of that discussion with all the stakeholders broadly – as I think there is  a real opportunity,  in the long term to open the possibility of helping people understand their cultural journey;  help Trinity to map those  journeys; and help Trinity and other stakeholders support individuals and groups of individuals who may not know where the culture journey goes next."
Connecting the dots: creating tech that works for organisations, not organisations that work for tech- Sarah Bentley, Communications and Development Manager, Trinity Community Arts
"As an organisation, we have utilised 'Community Tech' - that is technology that is community driven or community-led–not off-the-shelf software or subscription models.
We have always been interested in having tech that is driven by our organisational needs - that can be developed in a way that responds to what we need. We started this year with a grant for Power to Change to maintain our Open-Source CRM. Our CRM, is based on CiviCRM, a web-based suite of internationalised open-source software for constituency relationship management that falls under the broad rubric of customer relationship management. To undertake work to help us maximise the system's ability to both gather and report upon data. We have ended the year being able to connect the dots between our Cultural Confidence Scale and the software we use to gather data in a way that is both meaningful and responsive to – not just what we need but other grassroots organisations and smaller charities – all of which, like us, have to process data for various stakeholders.
This processing of data, both in its collection and end reporting, is time-consuming. We live in a data-driven world, and we feel that if we can add value to the data through our Scale and also create affordable tools for people to collect this data, we are adding value not just our work but to the wider cultural sector."
Our journey continues to evolve, and we will keep updating our findings via blogs and social media.  Read our blogs so far: