by sarah —
last modified

16/06/2022 02:40 PM
'We're Right Here'
by sarah —
last modified

16/06/2022 02:40 PM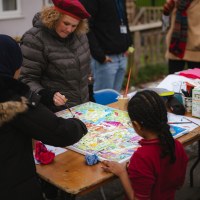 Community Art with Rose Popay
We're Right Here (subtitled) from We're Right Here on Vimeo.
National Community organisations have gathered together to launch 'We're Right Here' a campaign that aims to shift power to communities through the creation of a 'Community Power Act'.
This act, if successful, will fundamentally change where power and decision-making lie by ' establishing three new community rights:
A Community Right to Buy - giving communities the right of first refusal once buildings and spaces with significant community value come up for sale.
A Community Right to Shape Public Services - Encouraging greater collaboration between communities and public institutions when designing, commissioning and delivering local services.
A Community Right to Control Investment - Increasing community control over the key spending decisions which affect local neighbourhoods.
'We're Right Here' is supported by nine national organisations committed to 'community power' – these are Power to Change, The Cares Family, New Local, Locality, the Young Foundation, the Joseph Rowntree Foundation, Local Trust, People's Health Trust and Friends Provident Foundation.
Here's how you can support this work:
Find out more about We're Right here
Share your story of the Power of Community
Sign the letter to Michael Gove
Trinity are committed to advocating for shared community and cultural spaces. We are members of Locality and have invested in Stokes Croft Land Trust. Read our 100 Beacons report that shines a light on the importance of – and understand the risks posed to – Bristol's community and cultural assets.