by sarah —
last modified

18/02/2021 05:40 PM
Trinity Presents: Garden Sessions Revisited
by sarah —
last modified

18/02/2021 05:40 PM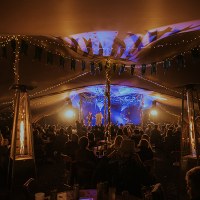 Trinity Presents Garden Sessions, Oct 2020
In Lockdown in early 2020 we teamed up with some of the most exciting names in Bristol's music scene, from St Paul's Carnival to Mini Rig to Nozstock Festival, to bring online audiences live streams.
In October 2020, our socially-distanced Trinity Presents: Garden Sessions where the first opportunity to welcome audiences back to Trinity to enjoy live music, in person.
"I've always known how much I value shared human connection on a dance floor but since March I've been trying to get this in other ways, dancing on zoom with friends, dancing to my mini rig with 5 friends in a wood. But tonight I experienced again the incredible wonder of the talented DJs of @bootybass playing tunes and responding to a crowd, feeling my insides vibrate with bass, glancing up and smiling at a stranger as you connect, arms in the air in synchronicity and I cried a little tear of joy. This is the stuff of life, creative shared human experience. My heart is full. Thank you the Trinity Centre creating such a beautiful safe space." Feedback from audience member Oct 2020
We put together an exciting series of events in a special, Covid-secure outdoor area in Trinity's historic grounds.
We teamed up with some of our favourite artists & Soundsystems for 9 full days sell-out live music & DJ's : Waldo's Gift, Hodge & Danielle, Dubkasm, Ashanti Selah, Young Echo, Sinai Soundsystem, Booty Bass, Bandulu, Sofa Sound, Afrobeat Fridays.
People commented that the space felt magical and like something special that you discover in a hidden corner of a festival.
We're very much looking forward to be able to present our postponed November line-up as soon as lockdown restrictions ease. Keep an eye on our website and social media info and announcements.

#TrinityPresents
#HereforCulture