by sarah —
last modified

17/06/2021 09:44 AM
First Light Studio Launch
by sarah —
last modified

17/06/2021 09:44 AM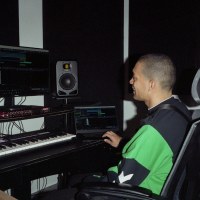 Batu Trinity Community Arts
Batu checks out the new equipment in the studio. Photo credit Batu
Trinity are pleased to be welcome First Light Studio as new residents. Founded by Bristol based DJ and Producer Batu, who is best known for Timedance, his bass-driven and hypnotic dance nights that have been a key player in the scene over the last seven years.
First Light Studio will take residency in Trinity's recording studio and will offer workshops and free studio hire to Bristol's music-making communities.
"So many people have helped me along the way and I've received a huge amount of support from the community around me. Privately renting a studio is an expense that is prohibitive for a lot of up and coming artists, and there should be more access for free." Batu
With the support of Dr. Martens the studio at Trinity has undergone a make-over - providing an open and inclusive space for artists to develop their skills - removing financial barriers many face in accessing professional studios.
The studio is a stepping stone into the music industry allowing producers to create, refine and experiment with the pro-level kit they need to enhance their ideas into fully fledged professional productions.
The investment by First Light Studio and Dr. Martens will mean that young people who access our music-making programme, Making Tracks, will also have access to the new equipment.
First Light Studio is open Mondays and Fridays - click here for more info and to book the studio.