Trinity Presents Garden Sessions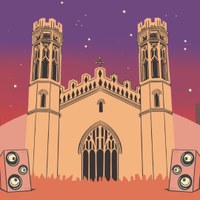 Trinity Presents Garden Sessions. Design by Adam Menzies
Drum roll please… We are ready to welcome you back music lovers! In a specially erected tent in the historic grounds of Trinity, we will be running weekend sessions throughout the Autumn and we cannot wait.
Trinity Presents Garden Sessions will run throughout October, launching its first weekend with Bristol's experimental trio Waldo's Gift (Oct 16), Livity Sound's Hodge & Danielle (Oct 17), and Dubkasm meets Ashanti Selah (Oct 18).
With Saturday & Sunday being powered by Sinai Soundystem.
"We cannot wait to welcome our music-loving audiences back to Trinity and have worked hard to make sure that we can provide a safe space for our audiences to come and enjoy what they love most - music. We cannot wait to bring well-loved artists, from Bristol and beyond, back to Trinity." Jamell Ackford, Venue Manager
Ticket buyers can book a table for up to 6 people (from £48 +bf). Drinks will be served via Love My Local and there will be options to purchase food.
Tickets go on sale Sep 16, 10am.