Re-imaging Trinity post-lockdown - Part 1: Arts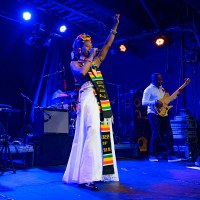 Fatoumata Diawara performing at Trinity, February 2020 - image by Khali Ackford Photography
Trinity Garden Party 2019 ⓒ Alexa Ledecky
As both an independent grassroots music venue and a community arts charity, Trinity straddles two very different worlds. This first of two parts, reflects on Trinity's role as an arts space and what the future might hold for us in a post-lockdown world...
Trinity's vision is for everyone to have the chance to access great art and culture. As an arts centre, we bring music to young people from challenging circumstances, deliver a range of heritage and cultural activities, projects and events and support artists with affordable space, residencies and producing time, as well as providing a platform to reach new and bigger audiences.
Since lock-down, we've continued in our commitment to 'empower communities through arts' via Trinity Presents - our online arts programme featuring live music, DJ sets and performances, which included partnering to bring St Paul's Carnival to a digital audience. With some restrictions now easing, we're exploring what we can do with regard to 'social distanced' residencies and outdoor performances.
However, all of this - whilst delivering social impact - doesn't mitigate against the financial impact of the COVID-19 pandemic.
Our dedicated team has worked hard to grow a range of revenue streams to ensure we're sustainable and our funding model is centred around 'sweating the asset' - making use of the listed former-church building in Old Market we look after on behalf of the local authority.
As soon as the Government announced lockdown restrictions in March, most of Trinity's income disappeared overnight. No live music or club nights. No bar sales. No car park income. No private hire fees for weddings or revenue from large events such as our annual Garden Party, which takes place every May and would've been celebrating its 15th year in 2020.
Though restrictions are beginning to ease, guidance remains confusing and is yet to address Trinity's main income generating activity: gigs and club nights. There is no clear indication as to when we will be allowed to #LetTheMusicPlay and operate at break-even capacity. Some are anticipating this return won't be until the next financial year, or even until a vaccine is in place.
We have thankfully been able to access some Government support and grants including Arts Council and Power to Change. However, like many of our counterparts in the city and up and down the country, we still face a very uncertain future. Trinity can likely get through the next few months but, if we cannot re-open as a venue in the Autumn, then we are going to start to really struggle without further financial support.
We've seen similar organisations go into administration already - including Square Chapel Arts in Halifax and Nuffield Theatres in Southampton. These are huge losses both to arts lovers and to local communities; the arts are not only invaluable to people's health and well-being but arts centres are also valuable local economic multipliers, as shown by a 2018 Locality report on comparable community venues.
Uncertainty for some venues is even worse than for Trinity, with many facing ongoing rental charges and large business rateable values, excluding them from available grant schemes. Campaigns such as #SaveOurVenues led by the Music Venue Trust (MVT) call for specific consideration to be given to the plight of grassroots music venues, whilst Future Arts Centres call to place arts spaces like Trinity at the heart of the country's post-pandemic recovery.
The debate on the future of the Arts sector in Parliament, in response to a petition which secured tens of thousands of signatures, touched upon some of these issues - including how the arts is more than just entertainment, supporting people through mental health struggles as well as showcasing the UK to the rest of the world.
What followed was followed by an announcement of £1.57bn to support UK culture. This offers some hope, however the Secretary of State for Culture, Media and Sport Oliver Dowden, stated that the priority for grants and loans will be to preserve the "crown jewels" in the arts sector; venues such as The Royal Albert Hall and The National Gallery.
With MVT estimating that 90% of grassroots venues are at imminent risk of closure, smaller cultural organisations are waiting to see what this funding might mean for us.
Though financial support has been announced, the #SaveArtsUK campaign is still very much live. We're keen to support the Government to widen their understanding of those who work in, enjoy and value the arts in their everyday lives and that arts is for everyone, not just those who can afford to access it.
We've written to our local MP about these issues and are continuing to work with other grassroots venues to ensure the long-term future of Trinity Centre and other important cultural institutions across the city - big and small.
Future Arts Centres has info on its website for writing to your MP about the community arts sector - better still, write to them with your story about how much organisations like ours matter to you.
Thanks for reading! Click here to read Part 2: Community.
You can also head over to Trinity Presents to join us for some online arts and culture.
Big love from Team Trinity & Trustees