by emma —
last modified

13/05/2016 04:50 PM
Patron: Miriam Margolyes
by emma —
last modified

13/05/2016 04:50 PM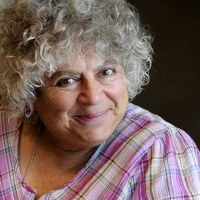 Miriam Margolyes OBE becomes Trinity Patron
Taking a break from filming the new series of SKY ONE's Trollied, Miriam visited one of Bristol's most-loved arts venues. She met with the Trinity team, young people from The Truth About Youth project and theatre group Sedated by a Brick.
BAFTA winning veteran of stage and screen, Miriam has achieved success on both sides of the Atlantic. Despite her globe-trotting success, Miriam has maintained a strong commitment to supporting grass roots theatre and arts and received her OBE in 2002 for her services to drama.
Miriam was introduced to Trinity by Ujima FM host, local activist and Trinity board member, Paulette North. Miriam was impressed by the Centre's work nurturing young talent, commenting that, "young people need encouragement and a nudge".
In a statement about her new role, Miriam said; "It's a privilege to be invited to be a Patron of the TRINITY CENTRE. These days, the Arts have to fight for their place in our society & I saw when I visited Trinity that it is not only committed to encouraging and fostering the Arts in Bristol, but also to ensure young people from diverse backgrounds experience all aspects of Art & enable them to realise their dreams. And the Trinity Centre building is a delight-the theatre space is one I look forward to inhabiting."
Emma Harvey, Centre Manager for the Trinity Centre said: "It was fantastic to meet Miriam and see such genuine enthusiasm for our activities. Working with Miriam will help to raise the profile of theatre created at a community level and support the development of talented young actors. We are incredibly grateful for her support."
Miriam Margolyes OBE - biography
Born in Oxford, England in 1941 and educated at Newnham College, Cambridge, Miriam Margolyes is a award-winning actress who achieved success on both sides of the Atlantic.
Winner of the BAFTA Best Supporting Actress award in 1993 for The Age of Innocence, she also received Best Supporting Actress at the 1989 LA Critics Circle Awards for her role in Little Dorrit and a Sony Radio Award for Best Actress in 1993 for her unabridged recording of Oliver Twist.
In 2002, H.M The Queen awarded her the Order of the British Empire for her services to Drama.
Contact: United Agents, 020 3214 0800 info@unitedagents.co.uk
Photo: Kyte Photography