by ripley —
last modified

06/12/2017 11:17 AM
Mark Lanegan Review
by ripley —
last modified

06/12/2017 11:17 AM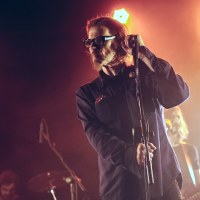 Mark Lanegan, Trinity Centre, Bristol, 27/11/17
The Trinity Centre proved the perfect setting for Mark Lanegan's Bristol gig as the room filled with fans of the veteran blues rocker. A down-to-earth venue with subtle back lighting for this gig and incredible sound.
The crowd was made up of a lot of serious fans of Lanegan and his various collaborations from Screaming Trees and Queens of the Stone Age to his folkier-toned music with Isobel Campbell. This led to a warm welcome for another collaborator of Lanegan's, Duke Garwood, who is supporting on this tour.
Gardwood, a talented multi-instrumentalist whose music is the British answer to Lanegan's distinct brand of Americana. Launching into some newer material made for a slow but steady start to Lanegan's set, with a mellow but appreciative audience but once he hit Nocturne and Bleeding Muddy Water, things started to pick up with some more animated reactions - slow head-banging, sincere fist-bumping and heartfelt sing-a-longs.
Starting off in his signature sunglasses, Lanegan removed this during the set to reveal his wise, lived-in face; There were times when the impact of his wilder early days was visible, from his limp around the stage and his supping of water - not whisky. That unmistakable baritone voice proved the focal point for most songs, with girlfriend Shelley Brien joining him mid set for a few dynamic numbers.
The chemistry between the pair emanated from the stage and she parted with a loving and lingering kiss for Mr Lanegan. By the time the encore ensued, Lanegan demonstrated his staying power and brilliance as a musician - nailing One Way Street, Bombed and I Am The Wolf.
Words: Laura Williams
Pics: Andy Marsh