by emma —
last modified

11/01/2017 05:31 PM
Review: A marvellous evening with Miriam Margolyes
by emma —
last modified

11/01/2017 05:31 PM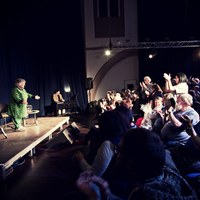 Miriam Margolyes, hosting 'an evening with...', December 2015
BAFTA Award winning Thespians are not necessarily what first comes to mind when one thinks of Trinity. But national treasure Miriam Margolyes - our charity Patron since 2014 - kindly agreed to support our fundraising effort by contributing her time, spirit and humour for one night only, December 2015.
The audience arrived promptly at 7pm, to be greeted by the scent of mince pies, mulled wine. The aromas set the tone for an evening of festive mischief.
We considered carefully which performers would compliment an evening with Mirriam Two of Bristol' s finest Opheila Biltz and Tom Marshman immediately came to mind.
The delectable queen of double entendre, cabaret-compère Ophelia Blitz, charmed, teased and enthralled the audience in a sequinned costume that sparkled almost as much as her wit.
Chameleon, performer and theatre maker Tom Marshman served up a warm dish of surreal character sketches borrowed from his show 'A Place in the Sun' - exploring the pleasures, pains, highs and lows and sunburn, of package holidays. The audience of 80, somewhat new to Trinity, may have wondered what they had wandered into as his characters challenged them with churlish quips and dry rebuffs.
Pianist Jack Calloway - of Old Duke stalwarts the trad-jazz aficionados, Prohibition Jazz - filled the space before Miriam's entry. Miriam cut short what was to be a roll call of her achievements by staff member Edson Burton with a playful ' none-of-that-nonsense' approach, before launching into her performance.
With decades at the top of her game, Miriam has a treasure-trove of memories from which to draw. But far from reeling off her achievements, she drew us into her confidence as if we were old friends. Throughout the hour, Miriam took us on an enthralling journey through her life, punctuated with songs, poems and readings from Dickens.
Miriam is a consummate raconteur and a fantastic entertainer but, for many, it was her candid reflections that were most engaging. With surprising frankness she named and shamed those now famous bullies who ridiculed her commitment to theatre during her university years spent at Cambridge. Miriam has, of course, had the last laugh. She is a national treasure. At a time when many celebrities have fallen from grace she is untarnished indeed she glows brighter. Her eyes sparkled with tenderness as she spoke movingly of her long term relationship. A relationship which begun at a time when attitudes to same sex relationships were less enlightened.
Behind her cut glass accent - acquired through elocution classes - is a survivor who has learnt to thrive as a woman in theatre. It is fitting then that the night raised a total of £2,200 towards our youth music provision, which caters for young people experiencing emotional and family stresses.
Miriam brought a new audience to the Trinity. Towards the end of the evening, as we all sang the Daisy Bell song by Henry Dacre, aka Daisy Daisy, we all felt just that little bit closer.
Trinity would like to give a big thanks to Miriam for hosting such a wonderful evening.
Big thanks also to Alice, Tom and Jack for performing alongside Miriam in-kind, to raise vital funds for our youth training programme.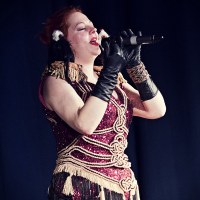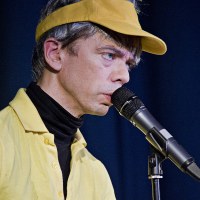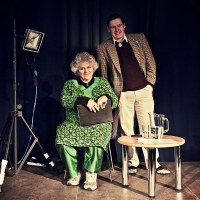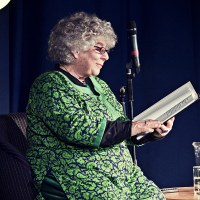 Left to right: Ophelia Blitz; Tom Marshman; Miriam Margolyes & Jack Calloway; Miriam Margolyes. Images by Jessica Bartolini.