by rhiannon —
last modified

12/04/2016 02:18 PM
March events update
by rhiannon —
last modified

12/04/2016 02:18 PM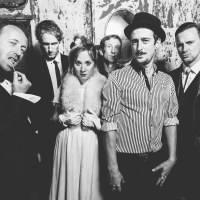 The Carnyvillans performing in March
Last Friday we saw the launch of Yellow Brick Roadz with Deep Medi's Gothrad & Cosmic Bridge label boss Om Unit. With support from T_! on the mighty RC1 Soundsystem. It was a Bass heavy low light event. Look out for their next exciting event coming up on 15th April.
Coming up, we are pleased to host The Global Playground Fundraiser on Thursday 24th March, who have secured The Carnyvillains. Zen Hussies & The Undercover Hippyalongside a great host of acts to get you dancing, raising awareness and money for Felix Road Adventure Playground in Easton and school projects in Dunkirk & Calais Refugee Camps. Join us beforehand for FREE pre-event: 'The Refugee Crisis: What Can We Do?' an evening of live music and talks about the refugee crisis at 6pm.
Spring is here and we have the next installment of Teachings In Dub, held on Friday 22nd April, with an exciting line up includingthe legendary Levi Roots, Stryda and Nick Manasseh. Set to be a very special night, join us in celebrating 20 years of Stryda's Sufferah's Choice Show.
Also, coming up is our very own annual Garden Party, Sunday 8th May, proudly celebrating 40 years of music at The Trinity. We have secured, Rattle, The EvilUsses, Lionpulse and much more...check out our ever expanding line up as the day draws closer. We are still welcoming volunteers and ideasfor workshops, activities and stalls, so please get in contact if you'd like to contribute.
With summer not so far away, Mayfest 2016 has announced its program. The Trinity will behosting "The Castle Builder", welcoming back Kid Carpet from our 2010 Garden Party and his collaborator VicLlewellyn. Also being performed is "Can I start Again Please", a riveting and humorous investigation into the power and failings oflanguage. Plenty more great stuff in there - check the full programme here.
Check out our what's on pages for more info as there just isn't enough space to fit it allhere!
Would you like to join the team? We are currently recruiting for a Caretaker. Find out more info here.