by rhiannon —
last modified

12/09/2016 02:02 PM
Doing Things Differently
by rhiannon —
last modified

12/09/2016 02:02 PM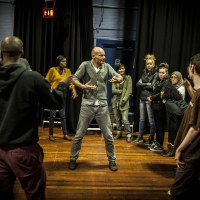 Presented by Diverse City and Bristol City Council, Doing Things Differently is a new festival coming to Bristol that takes a playful look at experiencing, learning and doing something different. In September audiences will be able to see shows from a range of performing companies. A playful look at doing something different this autumn…
Doing Things Differently is about celebrating, learning and talking about equality in the arts. Experience great shows from a range of performing companies, including Weighting from the UK's integrated professional circus company, Extraordinary Bodies in Castle Park.
Our strap-line 'A Centre for the people' came directly from our experience of facilitating and supporting 'communities' regardless of age, gender, sexuality ethnicity, income & ability such as theatre group the Misfits and their monthly Rhythm of The Night accessible disco. As well as providing a carefully managed and lovingly maintained spaces, we support groups which, with a little additional support, can expand their activities to something extraordinary. As part of the festival Misfits have partnered with Funky Llama, all the way from Plymouth to bring an alternative version of this ever popular event.
On Friday 16 we invite you to an intimate performance of On the Edge of Me in which the voice of one actress echoes the struggles of an entire generation of people facing unemployment, anxiety and depression...a solo dark comedy about the life of recent graduate, Remi, who confronts life as she knows it."Brilliant, poignant and touching.'"
That same night we will also be hosting "one of the most incredible stories ever committed to film". From the lawless streets of Kinshasa, Congo, comes Benda Billi, five years in the making which follows a group of street musicians as they struggle to record their first album. Hailed as the new Buena Vista Social Club, "Benda Billi is an inspirational, infectious, hilarious and life-affirming story of a dream that becomes reality".
As this is a festival of doing as much as watching and learning we are pleased to be hosting Cardboard Citizens as they bring their celebrated 2 day workshop How to use Forum Theatre as a tool for social change with communities. This training is ideal for Arts and Social Sector practitioners who want to develop their practice to support working with disengaged groups from an organisation which has been making life-changing theatre with and for homeless people and disengaged groups for 25 years.