by emma —
last modified

07/07/2016 11:18 AM
A wedding gift list with a difference
by emma —
last modified

07/07/2016 11:18 AM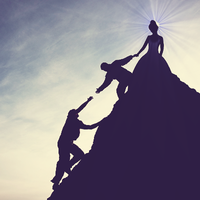 Say 'I do!' to a charity gift list
Increasingly, couples getting married are choosing charity and ethical gift lists as part of their special day.
Larger organisations have set up their own gift lists and more popular, go-to gift-stores now have an option to donate via a regular gift registry.
In Bristol, there are lots of fantastic, smaller charities who are often most in-need of financial support, yet don't have the infrastructure to promote their work and raise vital funds.

So, if you're getting married at Trinity or elsewhere, we've helped by putting together a list of 10 local charities working to make Bristol a better place for everyone.
16-25 Independent People provide accommodation, support & advice for 16-25 year olds living in the city. With 80,000 young people facing homelessness every year, 1625IP are a vital Bristol service, offering support to young people so that they can lead independent lives. They also work to prevent young people who are in crisis from reaching tipping point within their family home, in order to prevent homelessness.
Awaz Utaoh translation meaning, 'Raise your voice'; helping women from South Asian communities to feel valued, uplifted and empowered. One user commented; "Until I joined Awaz Utoah I had no idea of the support available to me". Awaz Utaoh hold drop-in advice and social groups, a youth forum and an over 50's group, helping to reduce isolation and address other issues and concerns.
Borderlands Refugee Centre works especially with people seeking asylum in the UK or who are refugees on Mondays and Tuesdays. They provide ESOL English Lessons, food parcels, a hot meal, drinks and sandwiches, a warm and welcoming place to be, as well as running an arts and crafts table and advice sessions at the Tolentino Hall. They run information and advice courses for refugees on issues around housing, benefits, money management and employment. Through supporting volunteer opportunities, they help to give a voice to refugees, so that they can share their experiences.
Bristol Refugee Rights runs a drop in Welcome Centre 3 days/week for asylum seekers and refugees. They offer: a social space, 7 levels of English classes, advocacy and information, a pre-school crèche,  interpreter and public speaker training and volunteering opportunities for members, arts activities, including musical performances, trips, and public events to raise awareness of asylum issues. Their vision is that everybody coming to Bristol to seek sanctuary is welcomed and treated with dignity and respect.
Fare Share is a UK wide charity fighting hunger and food waste. They redistribute good food that would otherwise go to waste to frontline charities and community groups that support vulnerable people. By receiving food from FareShare, these organisations are better able to provide nutritious meals alongside life-changing support. FareShare reaches over 320 towns and cities, providing food for 18.3 million meals a year and supporting 211,565 people every week. By ensuring good food is not wasted we turn an environmental problem into a social solution; "A square meal helps you think clearly about your life" Cliff, formerly homeless.
Misfits Theatre theatre & social group led by & for people with learning difficulties who want to get creative! "The Misfits is an incredibly valuable theatre company providing important services to both people with learning difficulties, people who work with people with learning difficulties, and the general public. It is one of Bristol's top cultural and social organisations."
Off the Record provide free, confidential mental health support & information to young people aged 11-25 in Bristol and South Gloucestershire. Each year they help over 5,000 young people providing free 1-1 counselling, training and specialist youth work.
One 25 One25 reaches out to women trapped in, or vulnerable to, street sex work; "Tonight, women will wait on Bristol's dark streets for a car to stop. They'll get in, not knowing if they'll come out alive. They are trapped in addictions and this is how they survive. But there's hope. Your donations to One25 will help women escape street sex-work and find freedom."
Talking Money dedicated to helping people out of financial hardship; providing free, independent debt advice, energy advice & financial education. 60% of children in our local area live in poverty; in the last year Talking Money have helped 278 families increase their income and reduce their costs, raising £244,862 for vulnerable clients.
Trinity Community Arts - yes, that's us! We work to ensure everyone has the opportunity to shape arts & culture in Bristol. We provide free and subsidised space for community activities, deliver projects that develop people's skills and well-being and programme events that help ensure Bristol's culture is reflective of our diverse city.
So why not say 'I do!' to a charity gift list!
Click here for more information about weddings at Trinity.