by rhiannon —
last modified

11/01/2017 05:00 PM
Stand, by Chris Goode
by rhiannon —
last modified

11/01/2017 05:00 PM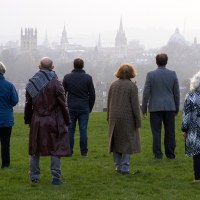 Review from Theatre Bristol Writers in Residence: Bella Fortune
Stand is the product of conversations. The conversations continued long after leaving the Trinity centre, but in silence; an inner-monologue set to my footsteps, set to snippets of strangers passing conversations. Stand made me consider myself, my actions.

It made me proud of that time I stood up to the racist man in the restaurant in Edinburgh and made me see my Mother's pleasure in witnessing this in a new, brighter light. Stand made me hope that in the future I will be braver in making positive choices and not stop myself due to fear of an unsuccessful ending. Stand made me miss my younger self- the one who could be so riled up about the wrongs of the world.

Stand made my friend sad when she realised later that these were actors, not the activists, performing the verbatim transcript. Stand impressed me that the quality of performance made her think this.

Stand meant I was sure to find a bin to put my cigarette butt in and to feel guilty for all of the discarded ones that came before it and every dropped one that is sure to come. Stand reminded me that I am only human. Stand made me plump-up with pride for people. It made me deflate with despair in humanity.

Stand made me think of my friend who spends weeks, months living in protest sites; of the arrests, beatings, losses and wins. It made me question why I have been so hesitant to join him.

Stand made me wish I'd ordered the vegetarian quiche instead of this open-top ham sandwich but feel a little more at ease that at least the meat is locally sourced. Stand reassured me that standing-up can come in many forms. Stand is simple. It is sensitively, sometimes joyously performed. Stand made me want to know more, to do more. Stand made me want to be better.