by rhiannon —
last modified

23/11/2015 03:05 PM
November Events update
by rhiannon —
last modified

23/11/2015 03:05 PM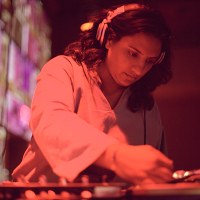 Aadhunik - New Asian Music Night with DJ Rekha
Eek, where does the time fly – lots of exciting stuff to tell you all about coming up
This week we have a mega weekend including Ausform Micro-fest (pictured above) featuring drag queen regulars from the London cabaret circuit, Maxi More and IMMA / MESS. Later the same night we open up for the DEEP Medi Weekender, two nights of sounds system culture and music curated in partnership with Teachings in Dub.
After that we come crashing in to December with a packed Friday night featuring Massive Owl Theatre's new show Castle Rock, a distortion of the film, Stand By Me and Bump's Christmas Special; expect all the usual fun just a few more crazy costumes and probably some pretty terrible/amazing festive tunes.
Saturday 5, The Fantasy Orchestra return this year bringing us their very special David Bowie Party, encouraging you to come dressed as your favourite Bowie personality and for those musically inclined they'll be starting the proceedings with a 'David Bowie Berlin period' open mic session!
There is also still time to bag yourself a ticket for an evening with Miriam Margolyes. All proceeds from this night will go to support our youth training programme so excellent entertainment and a good deed all rolled into one.
Later in the month we still have Netsky, Aadhunik, the return of Twinkle Brothers and the City Rockas Festive Link Up to come, presenting plenty of opportunities to get dressed up and strut your stuff before we reach the big NYE Party to end the year on.