by rhiannon —
last modified

01/02/2016 01:58 PM
Nine Lives by Zodwan Nyoni
by rhiannon —
last modified

01/02/2016 01:58 PM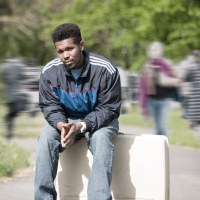 Review from Theatre Bristol Writers in Residence: Fraisia Dunn
Nine Lives is a one-man show about asylum seeker Ishmael, played by Lladel Bryant, from Zimbabwe and his struggle to gain asylum in Armley. Bryant does a superb job of bringing the character to life, he is animated and convincingly plays Ishmael, and the characters he comes across, with lightness and ease.

The play explores what happens when Ishmael, who is seeking asylum because he is gay, starts the asylum process in Britain. The production focuses on the loss, creation and slippage of identity when faced with such a situation. How much of himself does Ishmael leave in Zimbabwe, how much does he hang onto and how much does he make himself anew?

This production, with beautiful African music introducing new aspects of the story, is a very honest and human account of this confusing, heart breaking and totally transformational time in Ishmael's life. The script is excellent, the performance strong and honest and the design is elegant. There are no theatrical fireworks here, but there do not need to be, a simple story of Ishmael's arrival and the difficulty in the decisions he has to make are powerful enough.

The script is written by Zodwan Nyoni, for Leeds playhouse where she was writer in residence in 2014. One of the effective aspects of Ishmael's story is that it is entirely individual, prompting audience members to realise that asylum seekers are not a homogenous group in the same situation with the same concerns and problems, but each one is a person with their own very particular set of circumstances. Ishmael has to decide if he tells other African asylum seekers about why he is seeking asylum with the knowledge that he might be persecuted by his own countrymen or keep it quiet so he can seek the comfort of those with a shared background.

The narrative never rests, Ishmael is not allowed to settle, his story has no resolution. This echoes the transient, ever changing and never-resolved state that he is in. While he awaits the government's decision as to whether Britain can harbour him, he has no firm ground to stand on. This production is very pertinent and has a lightness of touch that allows it to transcend the media coverage of this plight and depict one person's difficult journey to a new start.