by rhiannon —
last modified

06/03/2015 09:16 AM
Roisin Murphy / Dance Marathon / SOLO Showcase and yet more Dot to Dot announcements!
by rhiannon —
last modified

06/03/2015 09:16 AM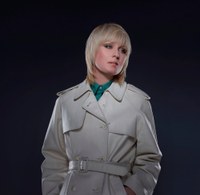 Roisin Murphy plays Trinity 14th May
And we have some great new events up on the website, from ex-Moloko lead-signer, Roisin Murphy, who will be performing one of a handful of warm up shows before her big sell out show at Camden Roundhouse to bluemouth inc.'s immersive site-specific performances Dance Marathon as part of Mayfest 2015.

Before then, join Julia Thorneycroft Dance Company for Get Lucky as they present Frustra, Breath:Taking and Endeavour, three performances in one night - what's not to like? If that's not enough they are even offering a welcome drink on arrival, Friday 13th March.

Don't forget to bag a ticket for this Sunday's  Radical Funnyism; with Sara Pascoe, Shazia Mirza & Kate Smurthwaite celebrating International Women's day and raising money for South West Rape Crisis Centers.
Dot to Dot 2015 have also announced further headline bands including Swim Deep, Best Coast and Fat White Family for their 10th anniversary festival - we're looking forward to finding out who will be performing here at Trinity.
To receive e-new bulletins sign up here