by katen —
last modified

20/01/2012 01:49 PM
Trembling Bells and Bonnie Prince Billy
by katen —
last modified

20/01/2012 01:49 PM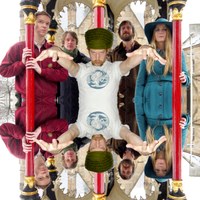 Trembling Bells and Bonnie Prince Billy
Scottish avant-folk foursome Trembling Bells will be joined by American singer songwriter and cult hero, Bonnie Prince Billy (aka Will Oldham) at Bristol Trinity on May 3. The south west section of this UK tour is supported by Routes Southwest.

Trembling Bells' fresh approach to folk has been garnering praise from fans and critics. Stuart Maconie describes their music as "wild and romantic, witty and heartbreaking. It has both the charm of folk music and the power of rock".

Bonnie Prince Billy is a legendary figure who has produced more than 20 albums. He was a pioneer of Americana and has carved himself a reputation as an unpredictable genius. He has worked under the name Bonnie Prince Billy, Will Oldham, the Palace Brothers and Palace Music.

In this most recent collaboration, Bonnie Prince Billy will join Bells' lead vocalist Lavinia Blackwall to sing a set featuring new songs, most of which will appear on their collaborative, forthcoming album, The Marble Downs.

With Lavinia and Bonnie Prince Billy at the helm, the duo will be supported by Trembling Bells songwriter Alex Neilson on drums, Simon Shaw on bass and Mick Hastings on guitar to perform a mix of originals, covers and traditional songs.

For more information on both artists, head to www.myspace.com/tremblingbells and www.bonnieprincebilly.com.