by emma —
last modified

21/01/2015 04:04 PM
2007 round-up
by emma —
last modified

21/01/2015 04:04 PM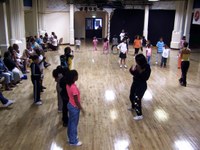 Hype Dance, 2007
I must start by thanking all the people, organisations and partners who have ensured the success we are now seeing. Every year I am amazed by the altruistic input Trinity seems to attract. Without our partners, and the organisations who use our resources, this success would be not be possible - so I formally give thanks to you all on Trinity's behalf.
This year Trinity has seen rapid growth within our management team, and development of the infrastructure of the building and our facilities. This is due to the continued intensive investment of time and energy made by all who have Trinity's success at heart. The success of Trinity Community Arts, in my opinion, is now firmly fixed as a stable reality. We can now boast that we are truly self-supporting, and that any investment made in us will be solely used to directly benefit the community.
For example, we have seen the completion of the first year of training here, one of our finest achievements so far, leading to the close partnership we now have with City of Bristol College. Trinity has now made the necessary first steps to becoming an accredited learning centre, and we look forward to a bright future with more courses planned and a wider remit. In particular we are continuing to address the inability of main stream education to target those young people who have disengaged from society, or who are at risk of doing so - those most in need of a sense of direction.
Another milestone that we have passed this year is the start of the long-awaited first floor improvements funded by Objective 2, Bristol City Council Equalities team, Yansec and ourselves. These improvements make the first floor more accessible to the public and will provide high-quality sound-proofed studios for the local community.
In July we saw the arrival of Emma Harvey, our new Activities Coordinator and Administrator. She immediately adapted to the position and has now become the central focus and the most valuable asset to the organisation. Emma sees no boundaries to her job title, and has successfully taken on fundraising, website design, publicity, and recruitment - far exceeding our expectations. It also gives me great pleasure to welcome Jennie Jones as new Chair of the organisation. I believe that we would not find a more talented and enthusiastic person and I am now very excited about the future with such a solid team. Watch this space.
Let's not forget the events which are such an important part of Trinity's heritage. Muse Music (now Meme Music) has continued to raise the game in this area with highlights for 2007 including The Good the Bad and the Queen and Willy Mason.
We have now entered a more professional and high-profile arena, which mirrors the progress we have been making as an organisation. Many thanks to Simon Bell and Teresa Vandre of Meme Music for the effort they have made in maintaining and improving our partnership.
Finally, the year 2007 ended on a very positive note, as the successful management of Objective 2 funding now opens the door to significant funding from Heritage Lottery, English Heritage and the Arts Council. Our short lease previously excluded us from access to major funding from these bodies, but in 2008 we will draw up a new service level agreement with Bristol City Council. This should provide a lease long enough to persuade these bodies to invest substantially in the fabric of the building, and in other worthy projects to enhance the resources available to deprived local communities.
We all firmly believe that Trinity can and will develop into a renowned centre of excellence for the South West, and become one of the finest jewels in Bristol's crown.
Check out our Annual Report for more information.