by sarah —
last modified

10/05/2022 05:29 PM
—
expired
Kickstarter roles
by sarah —
last modified

10/05/2022 05:29 PM
—
expired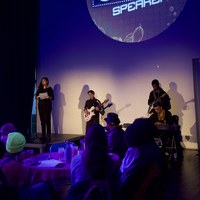 Ceces Speakeasy
Distant Drums performed as part of Trinity Presents 2021. Photo credit Khali Ackford
Trinity are delighted to offer four opportunities through UK Government Kickstart scheme - providing paid work placements for 16-24 year olds on universal credit.
Kickstart placements at Trinity will be paid at the Real Living Wage rate and young people will receive training and support throughout the placement with clear development objectives and scope to continue into longer-term employment.
Facilities Assistant
Working in a busy live music and community arts centre, you will experience first-hand the practicalities of running a busy venue. As well as direct experience working as part of a team, you will be supported professionally to develop your knowledge of key organisational functions such as, building management and maintenance. You will also be supported to develop your professional and personal skills, for example administration, communication, and leadership
Events Assistant
Partly situated at Reception you will be in a front facing role, experiencing first hand the broad range of communities who engage with the Centre. Primarily working on the live music and club programmes, you will act as first point of contact for enquiries, helping to manage our bookings calendar and ticketing system, while supporting the wider team with our diverse programme of events. On event days, you will also have the opportunity to shadow and support event delivery staff to broaden your experience of the industry.
Bar Assistant
The Bar Assistant will support the bar managers to oversee and manage the operations of the bar when there are events on, ensuring bar service operate smoothly and in-line with all licensing laws and health and safety regulations.
The ideal candidate will be interested in hospitality management, friendly, approachable and passionate about the arts and the positive change it can bring about – in people and communities.  You will be a team player, adaptive and willing to support colleagues to improve the running of the bar.
Garden Assistant
We are looking for someone who can demonstrate their passion for community work, nature and the natural environment, who might have experience in gardening and/or experience of volunteering or working with children or adults in a community setting. The role will give the right person an opportunity to develop skills and experience across both these areas.
How to Apply
let your job coach know which role you would like to apply for and to confirm you are eligible
ask for a referral from your job coach (we unable accept applications from those who have not been directly referred)
send a C.V and one page covering letter or, video/audio application outlining your interest in the position and working for Trinity to info@trinitybristol.org.uk
Trinity is an Equal Opportunities employer and actively encourage applications from all backgrounds and communities. We recommended reading the job description and person specification thoroughly and describe exactly how you meet the requirements as this is the basis on which candidates will be shortlisted for interview.
We will make reasonable adjustments to the recruitment process if you have a disability or long-term health condition, or if you need something different or additional as part of the recruitment process. To discuss your requirements, please get in touch on info@trintybristol.org.uk/ 0117 935 1200 or pop into the Trinity Office between 9:30am-4pm Monday-Friday.
Please see our Recruitment Policy for further information.
Deadline: 9am 01 March 2022