by sarah —
last modified

24/05/2021 11:08 AM
Kickstart scheme roles
by sarah —
last modified

24/05/2021 11:08 AM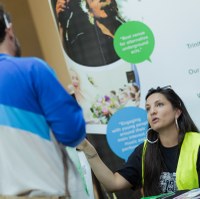 Kickstart summary:

4 placements - Development Assistant, Marketing Assistant, Operations Assistant, Programme Assistant

25 hours per week, 6 month contract, paid at Real Living Wage (£9.50ph)

To be eligible for the scheme you must be aged 16-24 years old, claiming Universal Credit

CONTACT YOUR
WORK COACH TO APPLY
About Kickstart
Trinity are delighted to offer four opportunities through UK Government Kickstart scheme - providing paid work placements for 16-24 year olds on universal credit.
Kickstart placements at Trinity will be paid at the Real Living Wage rate and young people will receive training and support throughout the placement with clear development objectives and scope to continue into longer-term employment.
Placements will develop knowledge and experience across a broad range of skills whilst bringing a young fresh perspective to the support the company.
If you are passionate about the arts and community engagement, looking to begin or build on your career in one for the below areas, we want to hear from you!
The positions are offered through the Government's Kickstart scheme. Applicants should check with their local Job Centre their eligibility before applying.
Please note we are unable to respond to applications directly.
Development Assistant
The Development Assistant will work in the Business Development Team to support the charity to develop its fundraising activity. You will support the charity, working with colleagues to prepare funding applications for a range of programmes, including Trinity's youth music provision, garden programme and social impact projects. You will oversee fundraising administration, ensuring we keep accurate records and maintain strong relationships with funders.
Marketing Assistant
We are looking for a dynamic, social-media/tech-savvy person who is confident in adapting their skills across a range of platforms and learning about different types of tech. You will care about marketing as a way to engage and represent different communities within the arts. You will want to make use of online platforms in a creative, fun and interactive way that increases access and generates interest in arts and culture.
Operations Assistant
Working in a busy live music and community arts centre, the Operations Assistant will support the Operational, Finance and Human Resource functions within the company - supporting critical areas to ensure the business and working environment functions efficiently and effectively. The ideal candidate will be interested in business operations and passionate about the arts and the positive change it can bring about – in people and communities. You will be a team player, adaptive and willing to support colleagues to improve the running of the company.
Programme Assistant
You will be passionate about making arts and culture more accessible and want to enable more people to have their voice heard. You will be great at inspiring and working with others to create positive outcomes for the community. You will support groups and individuals to become Members and assist the wider team to develop a diverse programme of activities that will reach and represent communities within the locality – ensuring that everyone from local residents and community groups to gig-goers can get involved, have a voice, and help to shape the future of the Centre.
Recruitment Policy
All roles will be based at the Trinity Centre, Bristol and we offer flexible working in line with our policy. Trinity actively encourages applications from all backgrounds and communities.
We will make reasonable adjustments to the recruitment and interview process if you have a disability or long-term health condition. To discuss your requirements, please get in touch on info@trintybristol.org.uk/ 0117 935 1200 or pop into the Trinity Office between 9:30am-4pm Monday-Friday.
Please see our Recruitment Policy for further information.