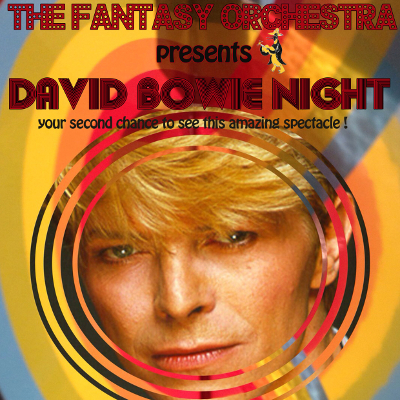 David Bowie Party
Come and celebrate all that is weird, wonderful and Bowie with Bristol's own 60 piece Fantasy Orchestra!
David Bowie Party
After the huge success of last year's Bowie spectacular, we are putting together another "once off" night of spectacle in true Bowie fashion; costumes, lights, extravagance will abound aplenty. The Orchestra, with a full choir, in full regalia, will be bringing to life a multitude of Bowie classics and lesser known gems.
We encourage you to come dressed as your favourite Bowie personality or to at least bring the spirit of the many incarnations of Bowie with you!
For those musically inclined, we'll be starting the proceedings with a David Bowie Berlin period open mic session. People from all musical walks of life encouraged! Please get in touch with our ringmaster, Jesse, at jessemorning@gmail.com for more information and if you would like to take part.
Tickets are just £7 in advance or £10 at the door. Spread the word
Check out some of their previous films: