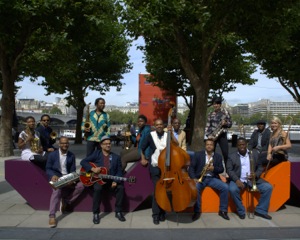 Jazz Jamaica & special guest Myrna Hague
Celebrating Jamaican Independence with support from Bristol Reggae Orchestra
The mighty Jazz Jamaica has rightly earned its reputation as "one of the UK's leading good-time bands" (The Independent) from their many exuberant live performances and dynamic album releases over the past two and half decades. Trinity Arts Centre is thrilled to play host to this fantastic band when they make a very welcome return to Bristol led by their bassist and founder, Gary Crosby – nephew of the great Jamaican guitarist, Ernest Ranglin.
Jazz Jamaica is guaranteed to have you on your feet and dancing with their special blend of rock steady rhythms, skanking ska beats, and pumping reggae grooves interweaved with sophisticated jazz swing!
They'll be laying down some of your best-loved tunes of all time in the process: Skatalites classic, 'Guns Of Navarone', Prince Buster's 'Al Capone', and Harry J All Stars' 'Liquidator' to name but a few.
Making a very special guest appearance is the sensational Myrna Hague – an original from the famed Studio One record label (What About Me, How Could I Live…), a pioneer of Lovers Rock and today, Jamaica's First Lady Of Jazz.
Support will come from the wonderful Bristol Reggae Orchestra, one of the UK's most inspiring and uplifting community projects. Set up in early 2010, this 30 strong group of musicians from all backgrounds has consistently delighted audiences, at St Paul's Carnival, festivals and major concert venues in the South West and Wales. Their unique sound has reggae at its heart, but draws in diverse voices from many local communities, including songs and music developed in collaboration with talented refugee musicians.


Put on your dancing shoes and come join the party!
Tickets: £15
0117 929 9008 / 0870 44 44 400
**Please note this event was orginally scheduled for Friday 1st August - all tickets remain valid**