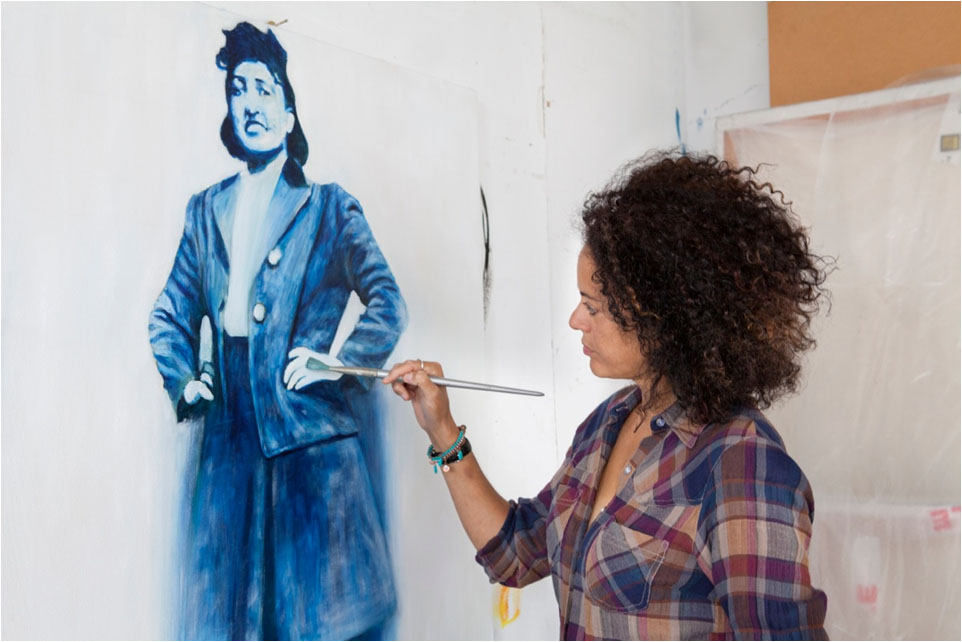 A Brush with Immortality-Henrietta Lacks
Exhibition and screening of documentary by local artist Helen Wilson-Roe. Live music spoken word and Q&A
Artist Helen Wilson-Roe's portrait paintings highlight the forgotten histories of their subjects. For 17 years artist Helen Wilson-Roe has been researching the life of Henrietta Lacks. In 2010 she began collaborating with the Lacks family to make visible the image of a woman who unknowingly had an incredible impact on medical history.
Henrietta Lacks was a young African-American mother from Baltimore who died in 1951 of unusually aggressive cervical cancer. Henrietta is remarkable because a sample of her cancer cells became the first cells to survive and multiply outside the human body, forming an 'immortal' cell line known as HeLa.
HeLa have been grown in laboratories around the world and millions of people have benefitted medically from the advances they enabled. Research using HeLa cells has led to some of the most important developments in medical history including the Polio vaccine, cloning and gene sequencing.
Working closely with Bristol scientists Professor Craig McArdle, Professor Jon Lane and Professor Harry Mellor, Helen Wilson-Roe has had unique access to the HeLa cells in the laboratory environment. Her project invites us to consider questions around permission, recognition and the role of the individual in large scientific projects.
Through her portraits of the Lacks family and the documentary Helen Wilson-Roe aims to bring their story to the fore and to make Henrietta's image and her family's pride at her legacy, visible beyond the scientific research community. Helen has gifted the Lacks family portraits, and copyright to the Lacks family.
Jeri Lacks Whye, Henrietta Lacks granddaughter, says, "Thanks again Helen.  We will finally have a very special piece that we, as Henrietta's descendants, can say we own (copyright).  I'm so excited - overfilled with joy and proud.  Words can't describe how I felt when I saw the wonderful portrait you have painted of Henrietta Lacks.
The display on Henrietta Lacks will run from 10th October till October 17th 2014 in Trinity's upstairs gallery and is suitable for all ages. Access 9am - 5pm daily

Photo by Karen Brett