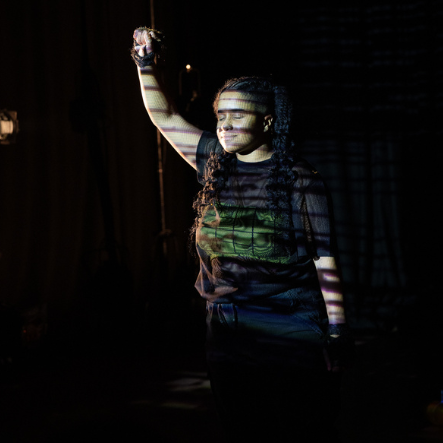 Kill The Cop Inside Your Head
A theatrical show confronting police violence against Black, queer and trans people
A theatrical show confronting police violence against Black, queer and trans people
Spoken word and performance artist Subira Joy explores their experiences of being targeted by the police as a Black, queer and trans person in the UK.
Combining striking visual imagery with powerful language, this new work examines the impact of the police in our communities and how we internalise their role to repress and suppress ourselves into submission.
Tracing narratives of police encounters while centring themes of violence, gaslighting and abuse of power, this work exposes how we impede our liberation when confronted by our inner cop.
"'Kill the Cop in Your Head' truly stands out as one of the highlights of my Edinburgh Fringe experience this year. The show confronts the deeply pressing issue of police violence against Black and queer and trans people and the show's form and artistic approach are equally riveting, boasting edgy aesthetics, powerful visuals, and compelling choreography." - People of Theatre.
Developed with support from Arts Council England, Buzzcut, Marlborough Productions, Cambridge Junction, ACCA and ONCA.
Tickets
About Trinity Presents
This event is part of Trinity Presents - our in-house programme of music and performance, bringing world-class artists and emerging talent to inner-city audiences.