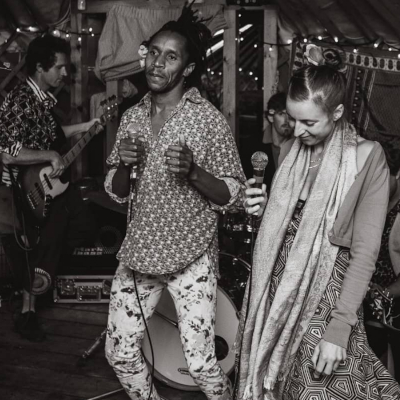 Garden Sessions: Kutamba + True Strays
Zimbabwean music with a western fusion
Rich Zimbabwean rhythms and righteous Bristolian blues rock
Capturing the wild sound and infectious dance riddim vibes of the Shona language, Kutamba mix their love of Zimbabwean music with a western fusion. From fiery rhythms to soul clenching melodies, Kutamba take to our stage to share their joyful, high energy vibes.
Bristol friends, True Strays, use the rights and wrongs of the past to paint a brighter, hope-filled future. Their music is a cathartic celebration of alternative roots Americana and blues rock; making sounds for an America that didn't quite exist.
Food will be available throughout the event. Social distancing rules apply. Tickets are for tables of up to 6 people.
This is a seated event as part of our Garden Sessions - featuring some of the best artists and promoters from Bristol and beyond, all playing in our new outdoor venue, set in the historic grounds of Trinity.
The Garden Session are supported through the Cultural Recovery Fund #HereForCulture