by emma —
last modified

16/12/2016 04:09 PM
Will's story
by emma —
last modified

16/12/2016 04:09 PM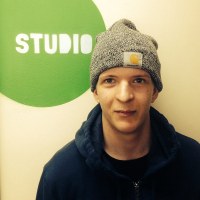 Will has found taking part in music has helped him come to terms with his past
Will was referred to Trinity from the South Glos Early Intervention Team and took part in our Take Note sessions, February 2016.He attended all the sessions and even took part in a collaborative song with more experienced music students which culminated in a live performance on the main Trinity stage.
Since then, Will has been making the long journey from Yate each week to attend our weekly Thursday session, writing and recording original rap lyrics and learning music production techniques.
"My occupational therapist referred me over to Trinity because he knew I was really interested in music production. When I visited the studios I got a really good vibe and saw it as a great opportunity to learn all about music production and record my own lyrics.

The main benefit for me is that I can get on the mic and record my lyrics every week. It's important for me to get my lyrics out as it is a way for me to express myself and to deal with the things that have happened in the past, which really helps me to move on. I have also enjoyed meeting, working and performing alongside other local musicians."
Will has been working on producing an album of original material and is now feeling confident enough to work the studio equipment on his own terms.
Will finished by saying; "I look forward to coming in to Trinity every week, it gives me something to get up for in the morning. Without it I would probably just be hanging out and chilling with my mates not getting anything done."
Will's support worker has been absolutely blown away by the progress he has made over such a short space of time. He is continuing to build his confidence, and would eventually like to apply for some work experience in a music industry setting.