by emma —
last modified

07/08/2018 02:28 PM
Stewy DJ Derek mural
by emma —
last modified

07/08/2018 02:28 PM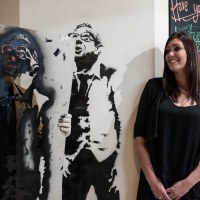 Jen, DJ Derek's niece, together with Stewy and the new artwork
Local artist Stewy, visited Trinity to create a full-size stencil of DJ Derek, to help promote Trinity's Youth Music Training Programme.
The family and friends of Derek Serpell-Morris - better known as Bristol reggae-music legend DJ Derek - have been supporting Trinity's Youth Music Training Programme through a memorial fund set up in the late DJ's memory.
'Sweet Memory Sounds' helps to raise vital funds and donations to help keep Trinity's music training activities running, so that we can continue to provide opportunities for young people to engage with music - often at very challenging times in their lives - so that they can get back into learning and employment.
Artist Stewy is a keen supporter of the Trinity Community Arts charity and, when he heard about the work Sweet Memory Sounds have been doing to raise vital funds for Trinity's youth work, was keen to get involved and show his support.
The iconic image of DJ Derek - which has appeared in several locations across the city, marking some of his favourite places - is located in the Trinity Centre's Main Hall; a prominent position for visitors and gig-goers of the Trinity Centre to see and enjoy.
In addition to the mural, Stewy also donated 100 original DJ Derek screen-prints, to help raise funds for Trinity's youth music programme.
Emma Harvey, Centre Manager of Trinity said; "We're so grateful for all the support Sweet Memory Sounds have provided us so that we can continue our work with some of the most vulnerable young people in the city. As regular feature at Trinity gigs back-in-the-day, with Stewy's latest mural in place, this feels like a fitting tribute to Derek. We all want to say a massive thank you to Stewy plus to Jen, Mat and Derek's family for their continued support."
About our Youth Music Programme
Trinity has a strong track record of skills development and training, providing music learning activities for 150 young people in 2015/2016 and supporting some of the most vulnerable and socially excluded young people:
"Trinity is important for me because it keeps me off the streets and gives me the space and time I need to express myself. It has helped me build my confidence and has challenged me to try things I don't usually do. They also helped me get a work experience placement." Nail, Trinity music student (2015)
We have delivered music training to disengaged young people aged 16-25 since 2005; specialising in engaging young people who face barriers to participation and working with some of the most vulnerable and socially excluded. Our work is critical to our locality and fully supports our mission in empowering all areas of society to shape the arts and culture in their own communities.
Click here for more info about our programme.
Images - Stewy (Right); DJ Derek mural in Trinity's main hall (Left)

Images courtesy of ©Laure Noverraz