by karina —
last modified

13/12/2017 04:29 PM
Rob's story
by karina —
last modified

13/12/2017 04:29 PM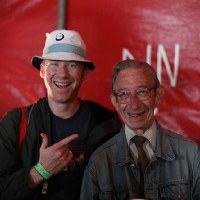 Rob & DJ Derek
Rob Drysdale, from "Stick It On" (Brighton), just donated £500 towards our Youth Music Training Programme!
Rob's support is a great vote of confidence in our mission and will help us to respond to a growing demand for the provision we offer, protecting the future of this vital programme.
Trinity has been delivering music training sessions to disengaged young people since 2005. We offer a variety of music drop-in sessions, tailored to individual or group needs. We work in partnership with pupil referral units, schools and organisations to provide regular support. Our students choose what they would like to focus on, incl: drumming, guitar, bass, vocal tuition, Dj'ing and music production.

A personal friend of DJ Derek, Rob was aware of the Sweet Memory Sounds legacy fund that DJ Derek's family set up in his honour in 2016, and how last year it supported Trinity's work with disengaged young people, including young offenders and those with other health and behavioural issues through music making.

Rob felt inspired and said to us: "I'm very happy to support a Bristol charity that supports youth development in music. DJ Derek was a good friend and it feels good to make a contribution to his local community."
Get involved
If you, like Rob, would like to support our work, please get in touch with us! You can also make a one-off or monthly donation directly on our website or through justgiving
If you are a young person that would like to attend a course, or if you are looking to refer a young person, then you can call us on 01179351200 and chat to Dave Thomas (Training Coordinator) or ping him an email: davet@3ca.org.uk
Stick It On is an alternative DJ entertainment service transforming parties into something personal, engaging and most importantly fun - check out their website here, to find out more.