by emma —
last modified

16/12/2016 04:11 PM
Nitin's Industry Insights
by emma —
last modified

16/12/2016 04:11 PM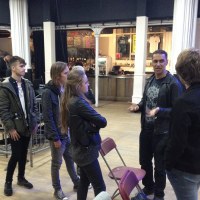 Nitin talking with Bristol music students at the Trinity Centre
The Trinity training department was pleased to arrange an incredible opportunity for young people from the local area to observe legendary producer, composer, DJ and multi instrumentalist Nitin Sawhney sound check just hours before his much anticipated packed out show here at Trinity Centre.
Backed by a full 8 piece band, including three vocalists, flutes, tablas, guitar, bass and drums. Nitin kindly allowed the students access to the technical process providing a rare glimpse into the intricacies involved with the professional music industry practice of sound checking for a high profile show.
Nitin Sawhney is one of the most distinctive and versatile musical voices around today. Firmly established as a world-class producer, songwriter, DJ, multi-instrumentalist, orchestral composer and cultural pioneer, Sawhney has become a latter-day Renaissance man in the worlds of music, film, videogames, dance and theatre.Sawhney's output as a musician is highly prolific.
He has scored for and performed with many of the world's leading orchestras, and collaborated with and written for the likes of Paul McCartney, Sting, The London Symphony Orchestra, A.R. Rahman, Brian Eno, Sinead O'Connor, Anoushka Shankar, Jeff Beck, Shakira, Will Young, Joss Stone, Taio Cruz, Ellie Goulding, Horace Andy, Cirque Du Soleil, Akram Khan, Deepa Mehta, Mira Nair, Nelson Mandela and John Hurt. Performing extensively around the world, he has achieved an international reputation across every possible creative medium.
Nitin was also kind enough to have a chat with our students afterwards to discuss his experiences and share insights into the music industry. Everyone at Trinity would like to express our sincerest thanks and gratitude to Nitin, his band, crew and management for making this opportunity possible.