by emma —
last modified

13/08/2013 01:49 PM
Launch of New Music Makers Project
by emma —
last modified

13/08/2013 01:49 PM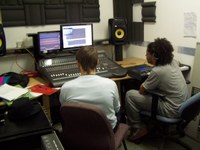 New Music Makers Project will give young people free access to our Recording Studio
Trinity will be running a new Music Makers Project that will help young people back into education, employment or training. Alongside our current programme for 16-18 year olds, we will be introducing two new sessions running every Thursday. The sessions are FREE to attend, and will target 13-15 year olds who have been excluded or who may be at risk of exclusion from school, and 19-25 year olds who have been out of education or employment for an extended period.
The six month pilot project will explore areas of music including production, engineering, MCing, vocal recording and guitar tuition. The sessions will culminate in delivering a final event as part of our Annual Garden Party in May 2011.Young people will work towards accreditations including a Bronze Arts Award and will work on areas such as CV writing, job searching and application writing.
Emma Harvey, Centre Manager said, "Our current training programme targets provision to 16-18 year olds - This grant from Awards for All will allow us to work with a much broader age-range. It will give young people the opportunity to re-engage with learning and help them find routes into other training or work. We're really excited about this project and we hope that young people will be too."
If you are a young person interested in taking part or would like to refer someone, please contact 0117 935 1200 training@3ca.org.uk or pop into the Trinity Office.