by emma —
last modified

01/04/2015 10:45 AM
Molly's story
by emma —
last modified

01/04/2015 10:45 AM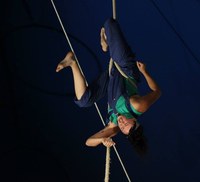 Molly has been achieving new heights since her time at Trinity
Here's what Molly had to say about her time at Trinity:
"I was expelled from my college course at Circomedia when I was 16 because of my poor participation, which was mainly due to my crippling anxiety and non-existent confidence.
I found out about Trinity's courses for young people online and signed up for some free classes and workshops as part of the 2007 Bristol Sound Project led by Nick Young. I took part in a mixing class with Souljah Clique, a scratching class with Dutty Girl, amazing singing workshops with the fantastically talented Kizzy Morrell from Studio 7, theatre sessions with director Dave Lovatt and a graffiti workshop with Bristol street-artist Silent Hobo.

I then went on to re-do the college course at Circomedia I was expelled from and received a triple distinction.
After one year of their professional course I went on to study at a well known circus school in Montpellier, France, where I had wanted to go for years. I've been working with a circus in France and now plan on coming back to Bristol to continue training and hopefully spend some time volunteering at the place which helped me gain my confidence.
The Trinity Centre is a truly unique organisation filled with talented people driven to encourage young aspiring creatives and support those who need it. My time there was special and even as a lost moody teenager I didn't feel judged or belittled - totally the opposite. I can't recommend their courses enough."
Each year Trinity works with 60 young people from challenging circumstances across our learning programme and activities. We work with young people who have fallen out of education, helping them to can gain confidence, develop skills and find routes back into education or employment.
If you would like to support our work with young people, visit our Just Giving page or text TYTP99 £[the amount you want to donate] to 70070 to donate to the Trinity Youth Training Project today.