by sarah —
last modified

14/09/2021 01:09 PM
Industry Insight with Idles
by sarah —
last modified

14/09/2021 01:09 PM
Dev from IDLES chats with emerging musicians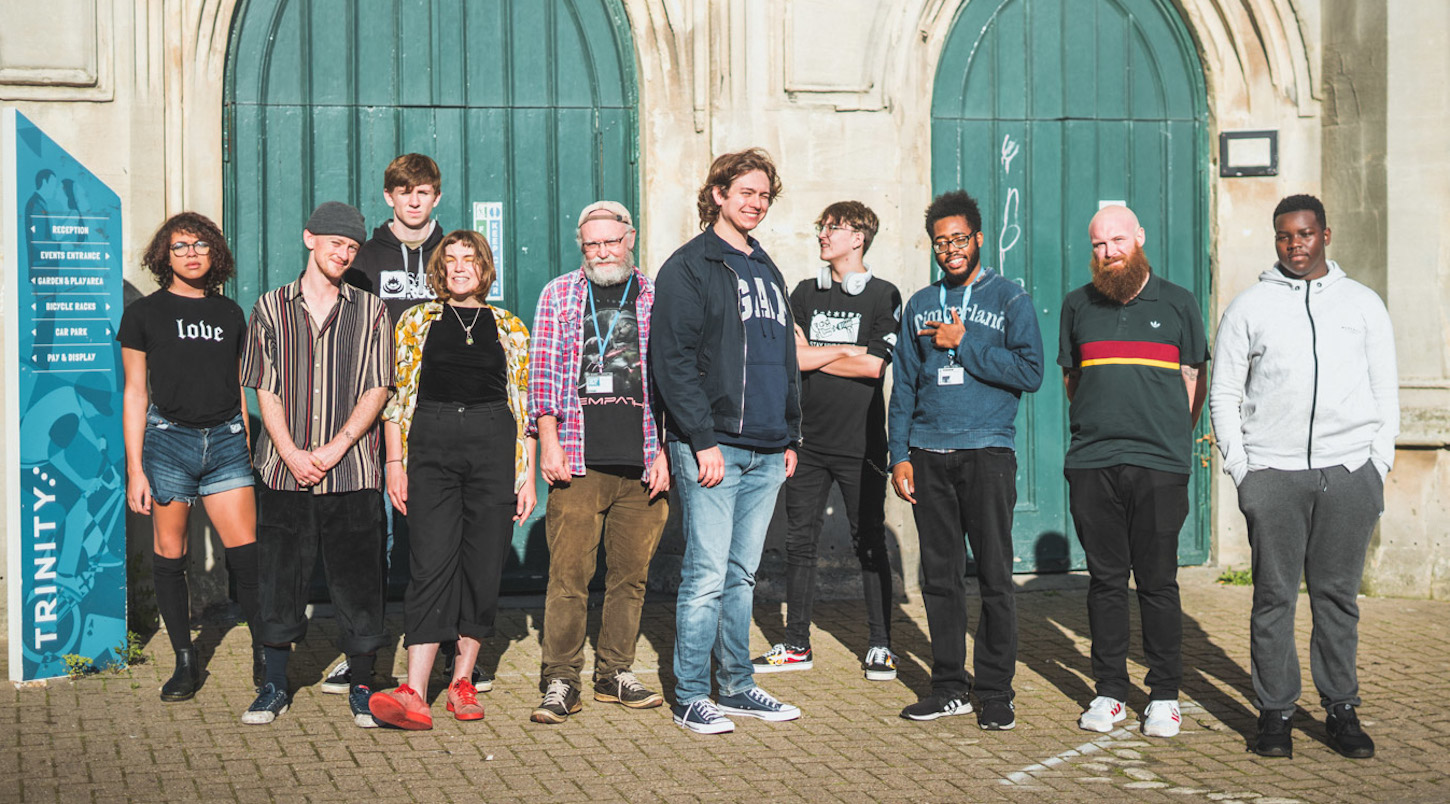 Young people from Making Tracks project who came along to chat with Dev from IDLES. Photo Lee Ramsay
Adam Devonshire (AKA Dev), bass player with Bristol based UK album chart topping post punk band IDLES, headed to Trinity to share his professional experience with emerging musicians on Trinity's music making project Making Tracks.
"It gave me some great insight into the industry and made me realise what I need to do next." Jasper, Trinity Making Tracks Participant
Dev spoke in great detail about the Idles ethos, song writing, musical inspiration, touring, branding and approach to digital streaming. His main advice to the young people who to 'hone your craft, write loads of songs - then scrap those songs and write better ones, play tons of gigs and build a strong local fan base'. He advised that once this has been achieved this then you can start thinking about moving outwards and attracting more industry attention.
Dev gave insight to Idles early days - playing tiny local bars to virtually no one to supporting the Foo Fighters, touring the world and playing the Park stage at Glastonbury Festival - something which had been a dream for the band right from the very start.
"I've had to sacrifice a lot to get to this point. The band has always come first. Even when no one seemed interested in us. We just kept on working hard, learning our craft and believing we could achieve and do what we love." Dev, IDLES
To finish off Dev took a quick fire round in which we learnt his favourite ice cream is mint choc chip, the first single he bought was, 'Boom! Shake the Room', by DJ Jazzy Jeff and that one of his favourite films is Shane Meadows bleak cult classic, 'Dead Man's Shoes'.
This exciting opportunity was co-created in direct response to feedback from a cohort of students involved in the Making Tracks Steering group. This group empowers young people within the project to have their voice amplified and opinions heard, providing them with autonomy and agency helping them to shape and design the Making Tracks' programme.
About Making Tracks
Making Tracks is supported by Youth Music and using public funding by the National Lottery through Arts Council England, as well as support from match funders Youth Sector Support Fund.