by emma —
last modified

16/12/2016 04:13 PM
Include Bristol
by emma —
last modified

16/12/2016 04:13 PM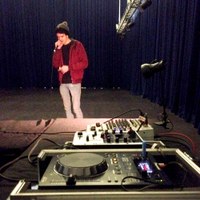 Trinity have been working with Include Bristol to deliver 1:2:1 music sessions
Trinity has been delivering 1:2:1 music session for several students. This has been going since last term, beginning of Feb 2015. So far we have had positive feedback from the students who attend the sessions.
We have a number of students who showed an interest in music, both playing, singing, rapping and writing. We have not had the capacity on-site to facilitate sessions or to accommodate and further such interests, and so had to outsource teaching sessions.
Trinity seemed ideal as they were able to tailor the sessions to meet the individual interests and needs of the student, as well as having a sound understanding about the types of young people we work with. Often our young people require a different approach than is provided at more mainstream provisions, and being able to tailor sessions to their specific interests has been ideal when considering the level of engagement.
So far all of our student who have attended the sessions have given positive feedback about the work they are carrying out, as well as showing clear progression, even in this short amount of time. Often it is the engagement with the session that these young people find difficult; however we have seen little evidence of this being the case with these sessions. Having a positive educational experience is crucial for this type of young person, who often has found difficulties with previous provisions.
Trinity has been extremely accommodating of our timetables and the young people we work with. Having not had great experiences with the education system previously, the positive sessions that are held on a 1:2:1 basis not only strengthen their musical ability and interest, but also goes towards creating a more optimistic attitude to new situations and experiences available to them. Our students all seem to be really enjoy the opportunity to learn new skills and express themselves in a different way, using techniques that have been specifically tailored to meet their interests.
Imogen Hopkins, Project Worker for Include Bristol CfBT