Diversifying the workforce, one job at a time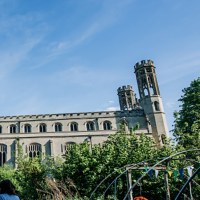 Students and professionals take part in a Making Tracks sector sharing day. Making Tracks is a  life changing music making project delivered by us, in partnership with leading youth services providers Basement Studios and ACE. Photo Paul Blakemore
With the DWP's announcement of the Kickstart Scheme, Trinity explores what such jobs might mean for the Creative industries
People from lower socio-economic backgrounds make up just 12% of the workforce in the creative industries, despite being 44% of the UK population and the Creative Industries Federation highlight the inherent inequality within the creative and cultural workforce across almost every protected characteristic.
Covid-19 will mean high unemployment for young people, as well as having profound impact on the cultural and creative industries.Diversifying the creative industries remains high on the agenda with the Creative Industries Federation citing lack of diversity still a persistent failing across the sector.
Possible redundancies may only serve to harm representation through the loss of junior workforce.
At a time when we need to do more to create alternative pathways, the challenge has been compounded by the pandemic with more experienced people willing to volunteer time or remain in lower-paid roles and less job-mobility at senior or executive level.
The announcement of more detail about the Government's Kickstart Scheme in September 2020 offers some hope - with opportunities created for paid employment for unemployed 18-24yr olds.
But it is by no means a magic bullet and must be accompanied by strong youth provision to ensure that those who stand to gain most from such placements are given every opportunity to access and succeed in any roles created.
Though many will know Trinity as one of the most loved and iconic music venues in the city, what many don't know is that Trinity has delivered youth arts training since 2005, providing creative courses for young people, with a focus on working with those Not in Education Employment or Training (NEET), in partnership with Education Unlimited, City of Bristol College, Weston College, as well as Bristol's wider youth sector.
Personal development through creative expression can be a critical factor in a young person's success.
Since 2018 we have led a Youth Music funded consortia with Basement Studio and Aspiration Creation Elevation working with 250 young people from challenging circumstances annually, giving them a chance to realise their potential through participation in arts and culture, giving access to free music-making which has truly been a life-changing opportunity for those who come through our doors.
Through our a decade of delivery, we are now part of a network of specialist providers who support with referrals, pastoral care and progression. Being part of this network who work to support the needs of NEET young people is a combined effort it is clear that, in most cases, multiple cross-sector agencies are involved in supporting a young person on their journey. The success of Kickstart in really changing the lives of those who need this chance the most rests on the ability to mobilise a cross-sector approach and support employers to help them realise the potential of a diverse young workforce.
Trinity has been part of a number of youth education and employment schemes historically, including The Future Job Fund, cited by NIESR as one of the most successful back-to-work schemes in history. Schemes such as FJF and the Creative Employment Programme have meant that we have been able to provide 33 young people aged 18-24 through with paid-internships since 2009, providing alternative pathways into creative industries.
Though not always perfect, they show us that this investment can provide a critical pathway into the creative workforce - over 1/4 of young people taken on via an internship remained employed at Trinity beyond the grant-funded post, including our Venue Manager Jamell, who started with us in 2010 on a 6mth FJF placement.