by emma —
last modified

10/11/2015 01:09 PM
Devin's Industry Insights
by emma —
last modified

10/11/2015 01:09 PM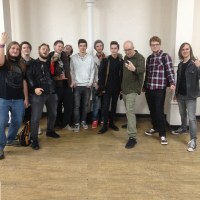 Devin Townsend took time out of his busy schedule to meet with young people from Trinity
Trinity aims to provide unique opportunities for young people from challenging circumstances who are interested in developing a music career. Our in-house music training department has begun an exciting new initiative that provides young people with a chance to meet some of the national and international touring artists that perform within the legendary Trinity Centre – one of Bristol's key live music venues.
The first of these sessions took place in October 2015 with prolific Canadian multi-instrumentalist, heavy-rock legend, Devin Townsend. Devin was the founder, songwriter, vocalist, and guitarist in extreme metal band Strapping Young Lad (1994-2007) and has also had an extensive career as a solo artist.
Passing through Bristol on a rare 7 date UK acoustic tour, Devin happily took time out of his busy schedule to take questions from a group of 10 music students. Devin was incredibly welcoming throughout and the young people were visibly in awe as Devin discussed the perils of rock 'n' roll excess and unrealistic over ambition. He stressed that music should remain an enjoyable creative process, as opposed to a career driven choice, which was very inspiring for the young people.
He gracefully allowed the students to observe his sound check, giving the group a unique insight into the professional processes involved in ensuring sound levels for each instrument are balanced and correct, in order to best match the acoustics of the space and artist. Finally, he took time at the end to sign CDs and have photos with the students, before carrying on preparing for the show at Trinity, which was a huge success and well received by the audience on the night.
A big thank you to Devin for making our first Industry Insights session possible!