by sarah —
last modified

16/05/2020 05:22 PM
Working Virtually with Young People
by sarah —
last modified

16/05/2020 05:22 PM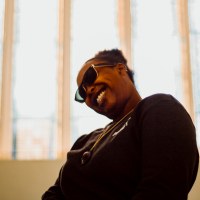 Making Tracks Trinity Centre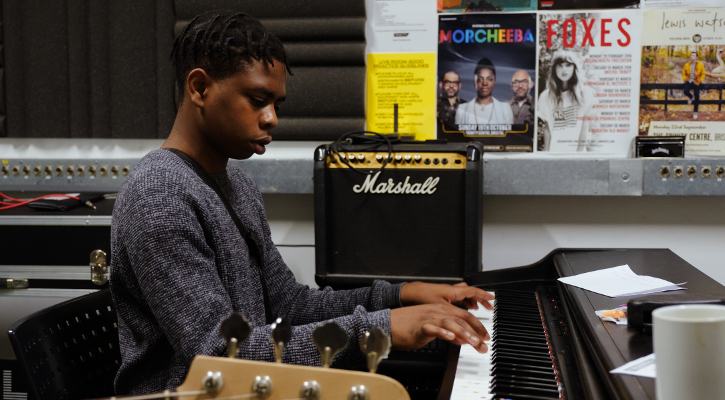 Before the lockdown a student takes part in a piano lesson in Trinity's music studios. Photo @ KoLAB Studios
When lockdown restrictions were announced Trinity's Music Team worked to move Making Tracks activity online.
So now instead of sessions in our building, young people meet with Tutors online for weekly music making sessions.
Since Mar 16, the team have worked with over 15 young people delivering music production workshops in: vocal tuition, guitar and bass tuition, songwriting, music production and skill sharing sessions. Tutors have also been creating online content, including short videos in industry skills and improving musical abilities. Emerging musicians from Making Tracks including Sam Neal have provided soundtracks.
"It's a lifeline. He loves it. It's really good for his mental health and autism to have these sessions scheduled during this time. It's really, really helping. Thank you so much'.
Parent of a Trinity Making Tracks young person
Partners ACE and Basement Studios continue to provide provisions, including checking in with young people online and providing workshops and bespoke masterclasses.
Trinity have hosted a virtual 3rd Space meeting, where organisations who provide music services for young people across Bristol come together and talk about ideas.
Making Tracks team members have also joined Youth Music's online sessions; learning from and inputting to the wider sector transition to online working, safeguarding and working with young people who might not have access to equipment.
Making Tracks is supported by Youth Music and using public funding by the National Lottery through Arts Council England, as well as support from match funders.