by emma —
last modified

26/07/2016 08:49 AM
We've Saved SPACE!
by emma —
last modified

26/07/2016 08:49 AM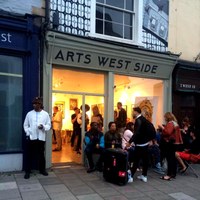 SPACE & Arts West Side, 6 West Street, Old Market, will be retained for community arts use til March 2018
Two Key Arts Providers for the City - Trinity Community Arts & Artspace Lifespace - launched the petition to Save SPACE! & Arts West Side, following a decision taken in June to lease the premises commercially.
The petition gained well over 1,000 signatures in the space of two weeks and the groups received testimonies of support from local residents, artists and community groups, as well as from major arts institutions in the city. One petition support commented; "The arts is important to people's lives and well-being as well as the local economy. I believe creative spaces and places that the local and artistic community can express themselves deserve to be supported."
After a series of discussions with Deputy Mayor, Councillor Estella Tincknell an agreement was made to keep SPACE & Arts West Side as a community asset and a hub for community arts and events until the end of March 2018.
Dina Ntziora, Project Manager for Artspace Lifespace said; "We are so grateful to everyone who supported our petition and believed in the value of our project SPACE. We would also like to thank the Arts Development team of Bristol City Council for their support throughout this process. It is a victory for community arts and the importance of projects like SPACE in making Bristol the city it is today. We believe that temporary use and re-use of empty premises and buildings can help create dynamic and resilient places in and around our towns and cities."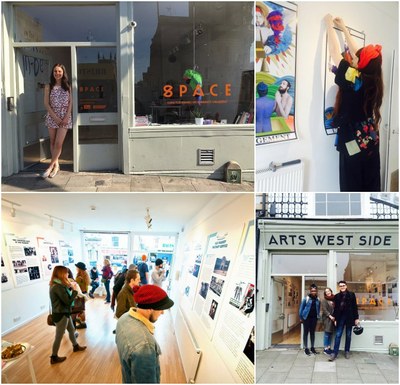 The partnership between Artspace Lifespace and Trinity Community Arts to maintain and promote Arts West Side & SPACE as an affordable, accessible community arts space began in April 2016. Standing for 'sound, performance, art, community, engagement', SPACE has hosted public events, art shows, artist residencies, community meetings, pop-up shops, as well as providing opportunities for volunteers.
Emma Harvey, Centre Manager for Trinity said; "The support we've received from the public has been amazing. Following consultation and knowing the depth of support from the community, Bristol City Council have generously decided to extend our lease. It's great to have a listening, responsive council that reacts quickly and effectively for the needs of the people. A big thanks to those involved who have helped us to achieve this fantastic outcome for Old Market. We look forward to developing an ongoing positive relationship with the Council."
Looking forward, SPACE has a vibrant programme of events lined-up, including taking part in the Doing Things Differently festival, organised by Diverse City and Bristol City Council's Culture Team, which aims to support creativity across the city and help reflect diversity on stage and in performance.
Talking about what the future brings at SPACE, Dina explained; "The decision to keep SPACE and Arts West Side for community arts use shows us that partnership between two Key Arts Providers are important and hold great potential for our city, both economically and socially. Real 'ownership' comes from making a private space into a public space. SPACE is your space. SPACE is open to your ideas, proposals and projects. Let's get inspired!"
To keep up to date about what's on at SPACE visit the Island's website.
A big THANK YOU to all who supported and believed in us!