Project history
Find out about our past projects, supported by Heritage Lottery Fund, to explore heritage of the building and local community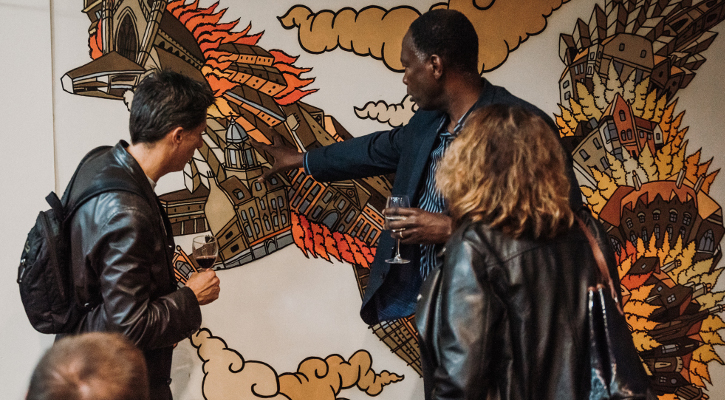 A home for The Trinity Fox by Andy Council, revealed as part of the end of project celebrations photo @Khali Ackford
Heart & Soul
In 2018 we celebrated Trinity's place at the heart of the community through a programme of accessible workshops, heritage trails, talks and social events, as well as online content, physical displays, two paid internships and volunteering opportunities.
Vice & Virtue
2013-2015
Oral history project exploring the rich heritage of Old Market; one of Bristol's most famous high-streets. Old Market is known for its historic architecture and townscape and its national significance as a Conservation Area.
From the history of Bristol's Gay Village since the 1980s to the history of vice that dominates perceptions of the area, the cultures, sub-cultures and changing demographics of this ancient, now modern market place are much spoken about.
What's Your Trinity Story?
2010-2012
Oral history and archiving project about the Trinity Centre from 1960-today. The project explored the rich history of the Trinity Centre, with specific reference to its role as a music and community venue.
Trinity is probably best known for its role in the music scene of the 1990s, when it played host to some of the biggest domestic and international music stars of the time. Its other incarnations have included its life as a parish church up until the 1970s, a base for African-Caribbean communities in the 1980s and its continued use as a music, community and training space today.
The project culminated in an exhibition, book and online archive.
The Bristol Sound Project
2008-2009
This project explored Trinity's role in the community and Bristol music scene, 1829-2009.
The Trinity Centre has long been described as the birthplace of The Bristol Sound. From punk to reggae, dubstep to drum 'n' bass, Trinity has been at the heart of Bristol's thriving music scene.
The project featured a series of creative workshops for young people, based on the Trinity Centre's colourful and varied past, culminating in a site specific performance At Tether's End.